News
2021-01-22
Japan gov't denies concluding Tokyo Olympics will have to be canceled, postponed to 2032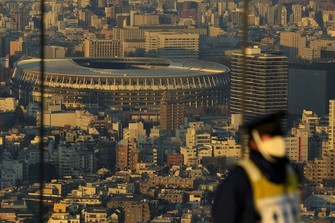 TOKYO (Kyodo) -- Japan on Friday January 22 denied a news report that the government has privately concluded the Tokyo Olympics will have to be canceled due to the coronavirus and it is seeking to host them in 2032, the next available year.
British daily The Times quoted a senior member of the ruling coalition as saying there is agreement the games, already postponed a year from the summer of 2020, are doomed, and the aim now is to find a face-saving way of announcing the cancellation that leaves open the possibility of Tokyo playing host at a later date.
"We would like to fully deny (the report) by saying there is no truth to it (report of cancellation)," Deputy Chief Cabinet Secretary Manabu Sakai said at a regular news conference.
"Of course we have to take into account the situation abroad, and we will decide on whether to actually hold the event at some point, but until then, the Japanese government will do what needs to be done," he said.
Prime Minister Yoshihide Suga, who has repeatedly said holding the games would be "proof that humanity has defeated the virus," told the Diet on the same day the government is "considering specific anti-virus measures" to realize a safe games.
Tokyo Gov. Yuriko Koike also dismissed the report, saying that cancelation and postponement of the games have not been discussed. "I think we should submit a complaint," she said at a press conference.
On Thursday, International Olympic Committee chief Thomas Bach told Kyodo News in an online interview that there is "no plan B" even as doubts grow amid a sharp resurgence of coronavirus cases in the capital and other major cities in Japan.
"We have at this moment, no reason whatsoever to believe that the Olympic Games in Tokyo will not open on the 23rd of July in the Olympic stadium in Tokyo," Bach said in the interview two days ahead of marking six months until the rescheduled event begins.
"This is why there is no plan B and this is why we are fully committed to make these games safe and successful," he said.
Despite the IOC and the Japanese government reiterating their determination to hold the Olympics this year, the situation is becoming increasingly uncertain with the virus resurgence in the country.
The central government declared a state of emergency on Jan. 7 in the Tokyo region and expanded it six days later to some other major prefectures including Osaka, Aichi and Fukuoka.
A Kyodo News poll earlier this month showed around 80 percent of the respondents in Japan believe the Tokyo Olympics and Paralympics should be canceled or rescheduled.