News
2021-02-01
Spring training begins quietly in Japan amid coronavirus surge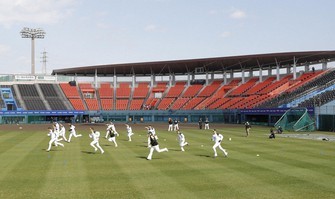 TOKYO (Kyodo February 1) -- Spring training camp kicked off quietly for Nippon Professional Baseball on Monday with all 12 teams playing in empty ballparks as the coronavirus continues to impact the world of sport.
Spring training sites have always attracted out-of-prefecture tourists, but this year baseball fans have been shut out of parks while all players, managers, coaches and staff had to undergo PCR testing before reporting to their respective camps.
The Japanese government has declared a state of emergency for 11 of Japan's 47 prefectures that is supposed to end on Feb. 7. The southern Japanese prefectures of Okinawa and Miyazaki, where NPB spring camps are held, have issued their own emergency declarations.
Okinawa hosts eight NPB teams and Miyazaki hosts four teams every year in February.
The Pacific League's SoftBank Hawks, who are seeking a fifth straight Japan Series title, and the Yomiuri Giants, who are aiming for a third straight Central League pennant, are training in Miyazaki Prefecture.
Some of the Giants' top players have opted to remain in Tokyo and train at Tokyo Dome due to coronavirus safety concerns.
The Rakuten Eagles moved their base from the remote island of Kumejima, Okinawa, to Kin, a town on Okinawa's main island, to reduce the pressure on medical facilities.
Masahiro Tanaka, who is returning to pitch for his former team Rakuten after seven seasons with the New York Yankees, will report late to spring camp.
Yakult Swallows infielder Tetsuto Yamada said before arriving at camp, "Of course the mood won't be the same without fans. It's going to be hard to stay motivated but we can't use that as an excuse."
According to a Ryugin Research Institute study, spring training camps in Okinawa in 2019 brought more than 14.1 billion yen ($135 million) into the local economy, with around 92,000 fans traveling to Okinawa.
This year, spring baseball will be missing more than just fans.
Bare-handed high-fives and handshakes are prohibited, as is spitting, and players will have to take turns using the locker rooms and showers, and ensure social distancing while eating.
Preseason games will begin on Feb. 23 and both leagues will open the 2021 season on March 26.
Last year the NPB season began three months late on June 19 and was abbreviated to 120 games, but this year it will go back to the regular 143 regular season games schedule.