News
2021-02-16
Women make up less than 17% of sports governing body directors in Japan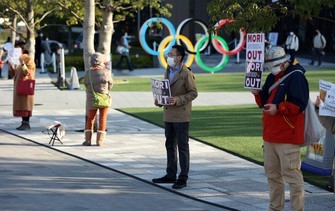 TOKYO February 15, 2021 (Mainichi Japan)
-- Women occupy an average of just 16.6% of all director positions at 35 sports governing bodies in Japan, according to a study by the Mainichi Shimbun, underscoring the reality of the sporting world in which it's still hard for women to participate in decision-making.
Ahead of International Women's Day on March 8, the Mainichi Shimbun looked into the rates of female directorship in 35 domestic organizations representing 33 sports to take part in the Tokyo Olympics following sexist comments made by outgoing Tokyo Games organizing committee chief Yoshiro Mori, 83, who announced his resignation on Feb. 12.
The All Japan Taekwondo Association had the highest rate of female directors at 36.4%, while the Nippon Surfing Association had no women among its board of directors.(Note; Baseball 11.1%、Softball 20.8%)
Meanwhile, the rate of women in director or committee-member positions among three central governing bodies associated with the Olympics and Paralympics was an average of 19.5%. Of the 25 directors in the Japanese Olympic Committee (JOC), five were women, or 20%. The Tokyo Organising Committee of the Olympic and Paralympic Games also had 20% of its directorship filled by women. In the JOC's board of councillors, where Mori uttered the derogatory remarks,
"The situation (surrounding the number of female directors) is improving, but not enough. We need to further enhance it within a scope of (the sporting world's) relationship to society," said professor Kyoko Raita at Chukyo University in Aichi Prefecture, who specializes in sports history from the perspective of gender studies. She pointed out the reason behind the small percentage of female directors is "the limited opportunities to acquire experience as coaches (in their respective sports) compared with their male counterparts" and believes that the major cause of women occupying only a small portion of positions in decision-making is the inequality between men and women regarding their career opportunities.
In June 2019, the Japan Sports Agency set in its governance codes, operational guidelines for domestic sports governing bodies, that each organization should have at least 40% of its director positions occupied by women. The governance codes also stipulated that governing bodies set a target percentage for female councillors.