News
2021-03-19
High school tourney returns to Koshien with less pageantry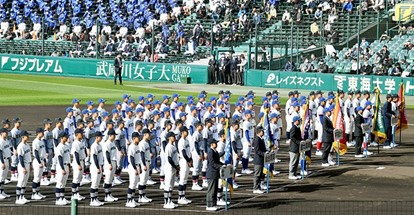 NISHINOMIYA, Hyogo Prefecture (THE ASAHI SHIMBUN March 19)--After a two-year hiatus, the nation's top high school baseball teams returned here for a national tournament, albeit with safety precautions due to the novel coronavirus pandemic.
Only the six teams with games on March 19 in the National High School Invitational Tournament marched into Hanshin Koshien Stadium for the opening ceremony.
In normal years, all 32 teams taking part in the competition march into the stadium in a grand entrance.
And instead of parading around the stadium, players from the six teams simply marched from the outfield to the infield.
Jo Shimanuki, captain of the Sendai Ikuei Gakuen senior high school baseball team, gave the athletes' pledge and touched upon not only the novel coronavirus, but the 10th anniversary of the Great East Japan Earthquake and tsunami that devastated large parts of the Tohoku region.
"We have learned many things over the past year," he said. "One was that the daily life we took for granted was actually made possible by the efforts and cooperation of others."
He concluded by pledging to "play ball while incorporating two years' worth of emotions for Koshien into every pitch and swing."
Last year's tournament was canceled due to the pandemic and the prolonged health scare also led to the cancellation of the summer National High School Baseball Championship for the first time since the end of World War II.
To make up for last year's cancellation of the spring invitational tournament, the 32 teams that had been scheduled to compete were brought together to Koshien last summer to play one game each.
But this year the regular tournament format has been revived as the 32 teams will compete over the 13 days of the competition.
However, the large crowds that have traditionally filled the Koshien stands will also be affected. Each school will be allowed to bring in only 1,000 students and others to cheer on the team.
They will not be allowed to cheer loudly or sing their fight songs during the game.