News
2021-03-30
Continued growth of baseball and softball important for new Korea Baseball Softball Association President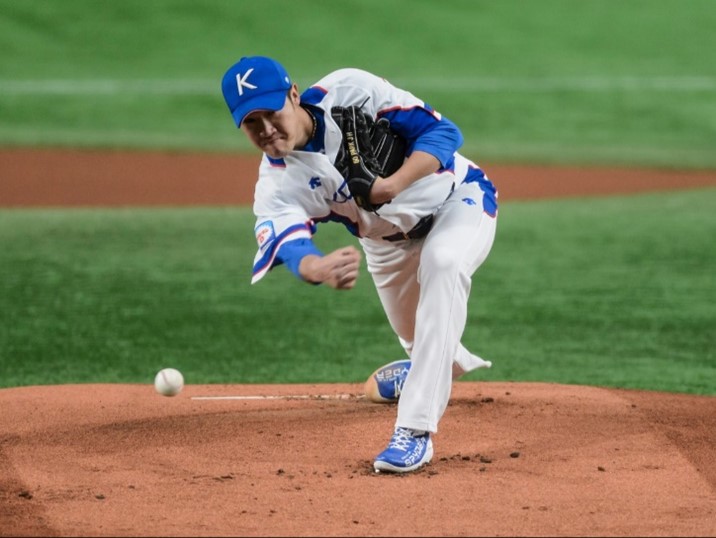 23/03/2021
Leaders of the Korea Baseball Softball Association are focused on strengthening their National Teams and growing the game in the face of a declining population.
While Korea is a major power in baseball on the world stage and the sport dominates the sporting landscape nationally, the new president of the Korea Baseball Softball Association (KBSA) Chong-hoon Lee told the WBSC there is one goal on top of his list - improving the level of participation, especially in softball.
Korea won the inaugural Premier12 competition in 2015, are the defending Olympic baseball champions after beating Cuba in the 2008 final and will be looking to defend their title at Tokyo 2020 after qualifying for the Olympic Games in Japan at the 2019 edition of the Premier12.
And out of 13,755 players registered in the country, 97% are baseball players but Lee says that's an exciting challenge.
"It is important to make softball familiar to students. As part of our promotion, we plan to send instructors to school, from elementary to high school. Hopefully, this plan will help softball grow at the club level and attract more players. We also want to promote exchange programmes with more advanced softball countries.
"We want to see our National Teams become more competitive. It is important to form a virtuous cycle of promotion, good results in international competitions to boost players development."
Lee confirmed that a key tool in helping drive participation levels in both softball and baseball will also be Baseball5. "I believe it can be a very important tool to help promote our sport. Korea's population is declining so we need to focus on recruitment, to have the best athletes chose baseball or softball. We will be ready with new plans to develop Baseball5 in Korea."
Softball was introduced to the country after World War II but didn't really develop until the Giant club was founded in 1983.
The Korea Softball Federation (KSF) was founded in 1989.
Korea is currently No. 21 in WBSC Women's Softball World Rankings.
Baseball was introduced to Korea in 1904 by US missionaries before it finally developed after World War II. The Joseon Baseball Association was founded in March 1946 and was recognized by the Olympic Committee in October. It was renamed the Korea Baseball Association (KBA) in 1954.
Korea won the Asian Baseball Championship in 1963 and became a member of the International Baseball Association in 1972. In 1976 (Cartagena, Colombia), Korea's National Baseball Team participated in the Baseball World Cup for the first time.
In 1982, KBA hosted the Baseball World Cup in Seoul. It was the first edition played in Asia, and Korea claimed the title. The Korean National Team has since won the Olympic Games 2008, the WBSC Premier12 2015, one Intercontinental Cup (1977), five U-18 Baseball World Cups, seven Asian Games, and 27 Asian Baseball Championships.
Korea is currently No. 3 in WBSC Men's Baseball World Rankings and No. 7 in Women's Baseball World Rankings.
The Korea Baseball Organization (KBO) was formed in 1981, and the first championship was played in 1982.
KBA and KSF merged into the KBSA in 2016.
Lee, a CEO of DYC, a company that produces automotive parts, was elected the 24th president of the KBSA on 12 January 2021. He was serving as vice president to previous KBSA President Eung-yong Kim.
The 53-year old received 86 out of 177 valid votes during an online ballot and defeated two competitors: Jin-gyun Na and Soon-chul Lee. Both were professional baseball players, while Chong-hoon Lee didn't have a professional playing career.
"I was not running for president of the Korea Baseball Association," Chong-hoon Lee told the WBSC. "I was running for the Korea Baseball Softball Association, which encompasses baseball, softball, and baseball for all or club baseball. Therefore, it does not matter if I was a professional player or not."
Lee actually said it could be an advantage not to have playing experience. "I thought I could implement the policy by thinking more fairly and widely in various fields, without being biased," he said.
"I tried to explain more about me in order to overcome the fact I was not as much a baseball or softball person as other candidates were. Rather than making unfeasible promises, I focused on what can be done and what is the most important issue now.
"The KBSA is supposed to harmonize different opinions. To do so, it will be important to respect each other, listen to the other's opinions carefully and be considerate of each other. This means that rather than wasting time on controversy, we should try to create synergy through integration between baseball and softball."
Another key goal for Lee is to continue growing the relationship between KBO and KBSA, especially with the new KBO commissioner Chung Ji-taik who was elected a few days before Lee started his new role. "This gives a good opportunity to start a new relationship. I will try to emphasize the importance of education. I would like to consult KBO to develop various educational programmes relating to human rights, anti-doping and mentorship for youth players and coaches.
"My goal is to communicate with them more actively and maintain a strong cooperation with KBO."