News
2021-04-28
4 Japan's pro baseball stadiums will close to fans during state of emergency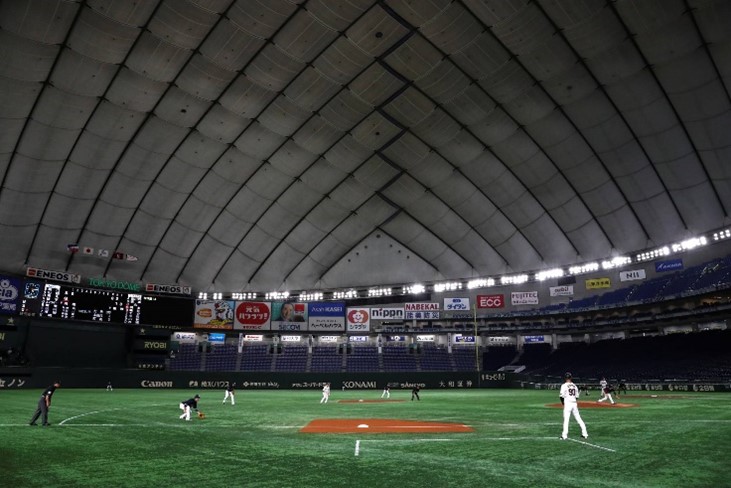 Nippon Professional Baseball decided Saturday to hold games behind closed doors at stadiums affected by the new coronavirus state of emergency through May 11.
The move will come into effect from Tuesday following the decision at an extraordinary session of the NPB's executive committee.
The state of emergency goes into effect on Sunday and will affect Tokyo Dome, Tokyo's Jingu Stadium, Kyocera Dome Osaka and Hyogo Prefecture's Koshien Stadium, the home parks, respectively, of the Yomiuri Giants, Yakult Swallows, Orix Buffaloes and Hanshin Tigers.
A total of 27 games are currently scheduled during the emergency for those parks, although three of the games, on Sunday, will go ahead with fans in attendance due to the short notice. Some of the games may be switched to other venues.
The move will not change much on the field of play, but takes away the boost players get from having fans at games. Barring fans was something NPB was doing its best to avoid. Crowds are part of Japanese baseball's distinctive atmosphere, though things were hardly normal with attendance already being limited as per government guidelines.
Through Sunday, NPB had an average attendance of 9,823 in 156 games. By comparison, when stadiums were operating at full capacity in 2019, the Chiba Lotte Marines had the lowest average attendance at 23,463.
That drop-off hit teams in the wallet in 2020. The situation was marginally better this year, with fans able to attend games from opening day. But now a handful of teams are going back behind closed doors.