News
2021-05-06
Philippines baseball stays afloat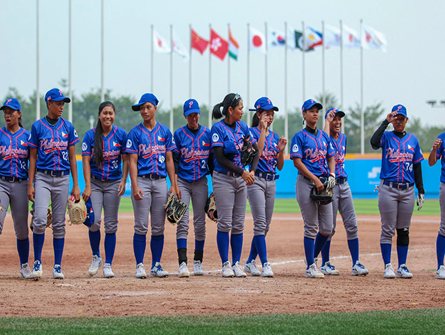 (May 04, Manila Standard)
Philippine baseball, with re-elected president Chito Loyzaga at the helm, was on the upswing following its gold-medal finish in the 2019 Southeast Asian Games, but missed several international stints because of the worldwide pandemic.
"It was a busy year for us in 2019 with our teams in both the men's and women's divisions, even at the youth level," Loyzaga said.
"Competing in major baseball tournaments abroad, our men's team finished 5th out of 8 teams in the Baseball Federation of Asia tournament. We actually tied for first place, but lost to Korea. Our women's team was more successful, with a bronze-medal finish in the Asian Cup and qualified for the Women's World Cup set in 2020, which was deferred because of the pandemic," continued the baseball chief.
"Our U-15 team also finished 5th in the BFA competition in Japan. The highlight was the golden performance of the men's team in the last SEA Games," explained Loyzaga, who is in his second term as Philippine Amateur Baseball Association president.
Then came the pandemic and practically everything came to a halt as participation in international tournaments was canceled, like the U-12 and U-18 in Chinese Taipei and China, the men's East Asia Cup and the qualifying tournament for the Asia Cup, all in 2020.
"But we never stopped training our athletes even if online only, hoping that before the year ends, we will be able to participate in whatever tournament we can join, like the Women's World Cup if it pushes through. Unfortunately, baseball is excluded in the events during this year's SEA Games in Vietnam. Our MANCOM continued meeting regularly attending to several matters like the house cleaning we had with our NSA, introducing necessary changes in the by-laws, increasing the number of the Board of Trustees from 7 to 11 to make us more inclusive for our stakeholders," said Loyzaga.
The PABA is also interested in pursuing some potential Fil-foreign talents whom they already have identified for future world level competitions.
"At the Asian level, we are already competitive. We are looking at potential pitchers for the team from the America, Australia, Japan and the Netherlands. We also sanctioned grassroots programs initiated by the private sector that aims to develop both the American and Japanese styles of the game, for the American way. Pureplay is undertaking it while the Philippine Samurai Federation, in a tie-up with the Yomiuri Giants, takes care of teaching the Japanese style," he continued.
Loyzaga is also working on eventually introducing the sport to the Department of Education for inclusion in its P.E. curriculum to expand further the base of players at the young level.