News
2021-05-18
83% against holding Tokyo Olympics this summer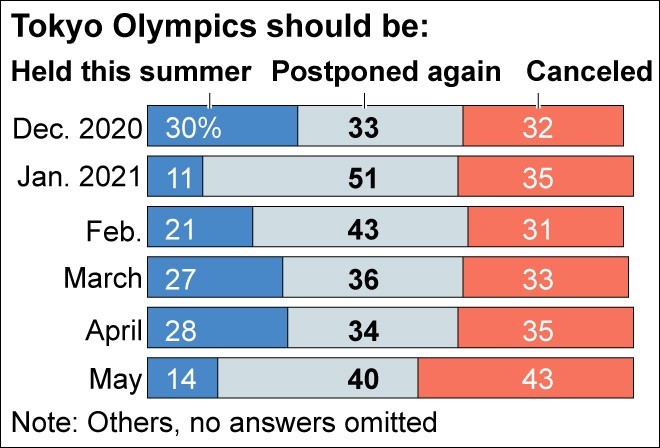 May 17, THE ASAHI SHIMBUN
A total of 83 percent of voters said the Tokyo Olympics should be postponed or scrapped, while the ratio of those who want the event held this summer has halved, an Asahi Shimbun survey showed.
Specifically, 43 percent in the nationwide survey conducted by phone on May 15 and 16 said the Olympics should be "canceled," up from 35 percent in April, while 40 percent said the event should be "postponed again," an increase from 34 percent.
Only 14 percent said the Tokyo Olympics should be "held this summer," compared with 28 percent in the April survey.
Among respondents from Tokyo, 46 percent said the Olympics should be "canceled," 30 percent said it should be "postponed again," and 21 percent said it should be "held this summer."
In light of concerns about the COVID-19 pandemic, Olympic organizers have banned overseas spectators from attending the Games. But a decision has not been made on whether the sporting event will be held with no spectators in the stands.
Fifty-nine percent of survey respondents said no spectators should be allowed entry if the Olympics are held, up from 45 percent in the April survey, while 33 percent said spectator numbers should be limited if the Games take place, down from 49 percent in April.
Only 3 percent said full spectator capacity should be allowed, up slightly from 2 percent in April.
Prime Minister Yoshihide Suga has repeatedly said "it is possible to hold the Olympics securely and safely" amid the COVID-19 pandemic, but 73 percent of respondents said they were "unconvinced" by his remark.
The survey also asked about the government's plan to release tons of accumulated radioactive water into the sea from the crippled Fukushima No. 1 nuclear power plant of Tokyo Electric Power Co.
The government plans to remove most of the radioactive substances from the contaminated water, dilute the water to a level well within safety standards and release it into the sea.
Forty-four percent of respondents supported the plan, while 43 percent opposed it. Among respondents from the Tohoku region, including Fukushima Prefecture, 55 percent opposed the plan while 35 percent supported it.
The survey was conducted by contacting both landline telephone numbers and mobile phone numbers selected at random by computer.
It received 608 valid responses, or 54 percent, of the 1,135 landline numbers of households with at least one eligible voter each that the survey contacted.
There were 919 valid responses, or 45 percent, from 2,056 mobile phone numbers of eligible voters that were called. The valid responses totaled 1,527.