News
2021-05-24
Bach risks backlash in Japan with call for 'sacrifices' for Olympics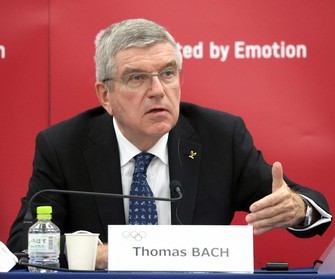 GENEVA (May 24, Kyodo) -- International Olympic Committee President Thomas Bach has reiterated the Tokyo Games will go ahead this summer despite overwhelming public opposition in Japan, where much of the country is under a state of emergency to combat spiraling coronavirus infections.
In comments reported by Indian news agency PTI, Bach said "sacrifices" would be necessary to ensure the games can be held.
While it was unclear whether he included the Japanese public in the remark, it could further inflame anti-Olympic sentiments after opinion polls have shown a growing majority in favor of canceling or further postponing the games.
"We have to make some sacrifices to make this possible. The athletes definitely can make their Olympic dreams come true," Bach said during an online address to the International Hockey Federation congress on Saturday, according to PTI.
The IOC chief touted the vaccination of athletes among a range of measures to ensure "a safe environment" at the games.
During an online conference held Friday, senior IOC official John Coates indicated the July 23 to Aug. 8 Olympics would be held even if the Japanese capital remained under a state of emergency.
"The answer is absolutely yes," Coates, an IOC vice president, said when asked whether the games could be delivered under the emergency.
The organizing bodies of the Tokyo Olympics and Paralympics formally decided in March to hold this summer's games without overseas spectators due to the coronavirus pandemic.