News
2021-05-28
Expert: To hold Olympics, Tokyo cases must fall below 100 a day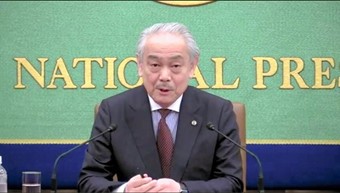 (May 27, The Asahi Shimbun) The head of the Tokyo Medical Association said new COVID-19 cases need to be brought down considerably before the Tokyo Olympics can be held safely this summer.
"If the current situation continues, I believe it will be difficult to hold the Olympics," Haruo Ozaki said during an online news conference on May 27 from the Japan National Press Club. The Olympics are scheduled to begin in about eight weeks on July 23.
He set a clear target: Tokyo must bring its daily COVID-19 cases down to under 100 or risk a surge during the Games.
"I believe there is a need to extend the state of emergency (until that figure is reached)," Ozaki said. "Unless the figure is brought down to that level, there will be a major rebound in new cases in July and August when the Olympics are to be held."
He said this might be the last chance to further reduce pedestrian traffic and contact between people. If that happens, Ozaki said it is not impossible to bring Tokyo's daily infection numbers below 100.
Ozaki also said if the Olympics are to proceed as planned, the events should be held without any spectators in the stands.
He suggested vastly reducing the number of overseas arrivals during the Olympics, such as individuals connected with corporate sponsors for the Games, those working for the International Olympic Committee, as well as foreign media outlets.
"Recommending that people watch the Olympics on TV in their homes will lead to a reduction in infections," Ozaki said.