News
2021-08-18
Japan's beloved high school baseball tournament again delayed by heavy rain and 2 Virus-Hit Teams Bow Out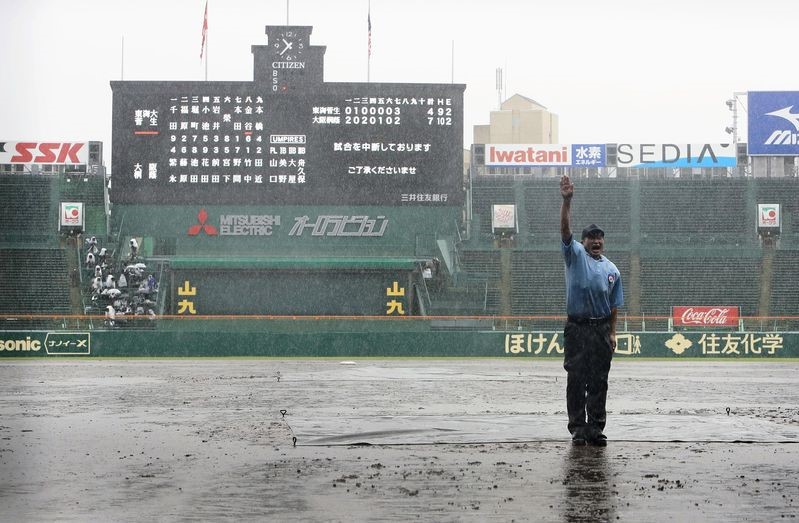 (August 17, 2021)
 Mother nature continues to rain on Japan and its venerated summer pastime, the National High School Baseball Championship.
For the fifth time since the 103rd edition of the event started last week at Koshien Stadium in Hyogo Prefecture, weather has affected the tournament, with three of Tuesday's games canceled and one called due to heavy rain.
The only game of the day saw Osaka Toin High School leading Tokai University Sugao High School, which represents western Tokyo, 7-4 in the top of the eighth inning when the game was called, giving Osaka Toin the victory.
The other three games have been rescheduled for Wednesday, pushing back the entire tournament schedule by one day. The final will now be held on Aug. 28, with a rest day still in place the day after the quarterfinals.
Rain is expected from Wednesday morning in the southern part of Hyogo Prefecture, which encompasses Nishinomiya where the stadium stands, and inclement weather is likely to continue through Friday, according to the Kobe Local Meteorological Office.

Further, two teams have bowed out of the ongoing Japanese National High School Baseball Championship due to coronavirus infections among their members, organizers said Tuesday.
The organizers said they have accepted requests to leave the tournament from Miyazaki Commercial High School from Miyazaki Prefecture, southwestern Japan, and Tohoku Gakuin Senior High School from Miyagi Prefecture, northeastern Japan.
At Miyazaki Commercial, a group infection occurred as 13 people, including players, tested positive for the coronavirus, with eight others were recognized as close contacts of infected people.
A Tohoku Gakuin player tested positive after the team won its first match of the tournament, with four team members found to be close contacts.
Tohoku Gakuin offered to quit the tournament, saying that the infected student and close contacts might be identified if the team continued to compete.