News
2021-10-20

Pitcher Matsuzaka retires from pro baseball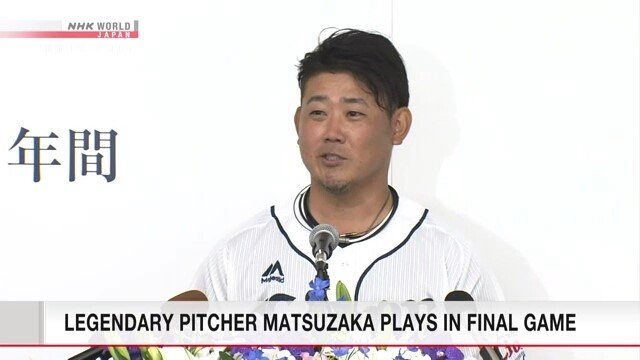 Japanese baseball pitcher Matsuzaka Daisuke, who also played for Major Leagues, has ended his 23-year professional career.
He told reporters that he is happy that he could retire without losing his love for the sport.
The 41-year-old from Tokyo earned the moniker "monster of the Heisei Era" when he led his high school team to victory in both the spring and summer national championships in 1998.
After graduation, Matsuzaka joined the Seibu Lions as the club's first draft pick. He won numerous titles, including most-winning pitcher in his rookie year and in the following two years.
Matsuzaka moved to the Major Leagues in 2007. He became the first Japanese pitcher to win a game in the World Series while playing for the Boston Red Sox.
He returned to Japanese professional baseball in the 2015 season, and has been playing for his old club -- now the Saitama Seibu Lions -- since last year.
But repeated injuries prevented him from pitching for the first team. He announced his retirement in July of this year.
Matsuzaka has had a total of 170 career wins -- 114 in Japan and 56 in the Major Leagues.
He spoke to reporters on Tuesday at the club's office in Tokorozawa City.
Matsuzaka said every player hopes to play as long as possible and prays that this day will never come, but it has, and he's sad but also relieved.
He explained that he has been struggling with numbness in his right arm since last year, and his condition worsened due to insufficient training and treatment amid the coronavirus pandemic.
He said he finally decided to undergo surgery, but he didn't improve despite a long rehabilitation period.