News
2012-08-29
Inaugural IBAF TC Clinic
18 Potential Technical Commissioners from 5 Countries/Regions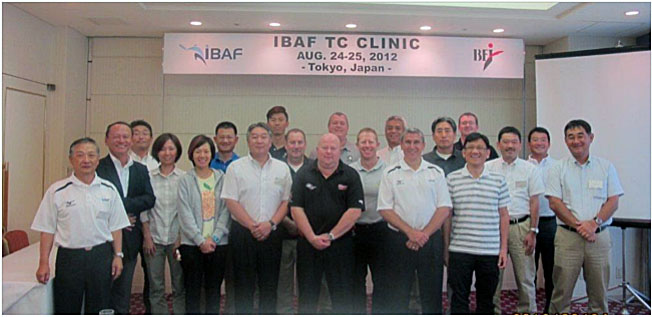 Tokyo: The 2 day IBAF TC Clinic concluded on August 25 was led by Jim Baba (Canada), Technical Commissioner and Tournament Commission Chair IBAF, assisted by TC Koji Aso (Japan). Following the class session at Shinagawa Prince Hotel (Photo) and official dinner on Day-1, the participants visited the Baseball Hall of Fame at Tokyo Dome next morning and afterward watched a college exhibition game at the baseball ground of the University of Tokyo as test case.

There were two ladies out of 18 participants and two professional umpires from Nippon Professional Baseball (NPB) among the 8 Japanese. After the conclusion of the 2-day clinic, all the participants received the participation certificate issued by IBAF President. Comments by the entire participants were very positive with some suggestions for future clinics such as use of power point as well as video clips of the plays.

IBAF President Fraccari remarked that "All of the IBAF officials play a critical role in ensuring our world championships are played/organized/officiated fairly and with integrity"¦ NFs have registered a diverse group of participants, 18 in all (2 each from Korea, Hong Kong and New Zealand, 3 from Australia and 1 from Chinese Taipei), for the TC clinic in Tokyo, Japan. The vision shared by the NFs will help our cause in adding more highly trained baseball officials in key territories, which will serve to meet the future demands of our tournaments, especially in cases where events run concurrently."

President Seung-Kyoo Kang of Baseball Federation of Asia (BFA) was pleased with the event as it was timely held immediately before the 2012 IBAF 18U BWC in Seoul and to have participants from Australia and New Zealand because BFA wishes to strengthen ties with baseball in Oceania.

"The planning by the Baseball Federation of Japan was tremendous. 18 potential Commissioners were trained on the expectation of the IBAF for the TC job," Jim Baba stated. "I was impressed with the interest, commitment and desire to learn from all participants. I feel this was a very successful initiation by the IBAF to build a larger base of TC's."

Participants: Jim Baba (CAN), Koji Aso (JPN), Park, Ro-Jun (KOR), Son, Hyuk (KOR), Felix Yip-Kwor (HKG), (Ms.) Kitty Au (HKG), Warren Van Rooyen (NZL), Ryan Flynn (NZL), David Michael Nagy (AUS), Timothy W. Harradine (AUS), Andrew Todd (AUS), Huang, Shih-Kuei (TPE), - JAPAN- Osamu Ino, Takeshi Hirabayashi, Hirotami Kojima, Seiichi Hayashi, Eiji Ito, Tokuyoshi Kono, Yuji Nagakubo, (Ms. ) Keiko Suzuki.