News
2013-03-09
Guest Umpires from Warm South Asia Braved Out the Cold Winter in the North
55th Umpire School Held in Kagawa Prefecture, Japan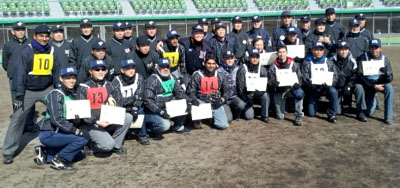 Japan Amateur Baseball Association (JABA) with the support of Baseball Federation of Asia (BFA), hosted the 55th Umpire School at Kagawa Prefectural Baseball Stadium
(Rexxam Stadium), Japan for 3 days from February 8 through 10. 13 guest umpires from 7 Asian countries/regions joined 57 Japanese colleagues brushed up their judging skills and updated themselves to the new rules with the help of 23 instructors who led the extensive sessions both day and night.

The names of 13 guests from overseas from Thailand, Philippines, Sri Lanka, Singapore, Hong Kong, Pakistan and Indonesia are recognized as follows:

Hashim A. Omandac (PHL), Manuel Luis S. Navasero (PHL). Wong Wai Hung Aaron (HKG), Anastasius Jeremy Meraldy (INA), Muhammad Ahsan Bilal (PAK), Shabbir Ahmed (PAK), Lee Poh Kwok Mathew (SPR), Wang Gangyi (SPR), Ang Zhi Yang Shawn (SPR), Pramam Summat (THA), Tavisit Kitmanee (THA). Susew Hewage Malindu Hewage (SLK), and SIRIGAMPOLAGE SUJEEWA JAYANTHAWIJAYANAYAKE (SLK).