News
2013-07-17
12U BWC: Japan shuts out, no-hits Czech Republic
Japan scores late and often to down Czech Republic in afternoon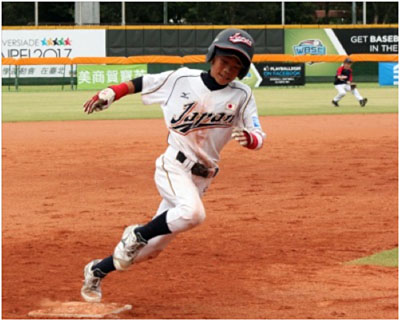 Tien-Mou/Taipei City. Japan had a good start into the II 12U Baseball World Cup, defeating the Czech Republic 15-0 in four innings in the afternoon game at Tien-Mou Stadium in Taipei City. The reigning European 12U Champion kept things close in the beginning, but fell apart in the third and the fourth.

Japan struggled to score in the beginning, needing a bases loaded walk and a wild pitch to score twice in the second for the 2-0 lead. However they found their rhythm later on, blowing the score wide open with six runs in the third and seven in the fourth.

Kosuke Ninomiya drove in three for Japan with a double in the last frame. Taiyo Ueda collected four hits in four at-bats. Tomoharu Moriya and Shota Sawamura scored three runs apiece. Sawamura also pitched a gem on the mound, giving up just three walks in four no-hit innings, while striking out nine.

Anezka Bartonova got the start for the Czech Republic. She stifled the Japanese bats with the help of her defense in the first two innings. She ended up with the loss, allowing nine hits, seven runs (5 ER) and a walk in two-plus innings.

On Friday Japan will be in the morning game at Shing-Sheng Stadium, welcoming the Philippines in the tournament. The Czech team takes on Chinese Taipei at Tien-Mou in the evening.




| | | | | | | | | | |
| --- | --- | --- | --- | --- | --- | --- | --- | --- | --- |
| Japan  |  ab  |   r  |   h  | rbi  |  bb  |  so  |  po  |   a  | lob  |
| NINOMIYA KOSUKE lf  | 4  | 1  | 2  | 3  | 0  | 1  | 0  | 0  | 0  |
| MIZUSHIMA KOYO cf  | 3  | 1  | 2  | 1  | 1  | 0  | 0  | 0  | 1  |
| UEDA TAIYO 2b  | 4  | 2  | 4  | 1  | 0  | 0  | 0  | 2  | 0  |
| AOKI DAICHI c  | 3  | 1  | 2  | 1  | 1  | 0  | 9  | 0  | 0  |
| KIKUTA HIROKAZU 1b  | 3  | 1  | 1  | 1  | 0  | 0  | 2  | 0  | 5  |
|    IKEDA KOHEI 1b  | 1  | 0  | 0  | 1  | 0  | 0  | 1  | 0  | 0  |
| MORIYA TOMOHARU ss  | 3  | 3  | 3  | 0  | 0  | 0  | 0  | 0  | 0  |
| SAWAMURA SHOTA p  | 3  | 3  | 2  | 1  | 0  | 0  | 0  | 1  | 0  |
| NAKAJIMA HIROMU 3b  | 0  | 2  | 0  | 1  | 2  | 0  | 0  | 0  | 0  |
| SATO ICHIRO rf  | 2  | 1  | 1  | 1  | 1  | 0  | 0  | 0  | 0  |
| Totals  | 26  | 15  | 17  | 11  | 5  | 1  | 12  | 3  | 7  |
Score by Innings R H E
-------------------------------------
Czech Republic...... 000 0 - 0 0 2
Japan............... 026 7 - 15 17 0