News
2013-07-19
84th National Intercity Championship –Day 8
Nippon Paper, Ishinomaki which suffered devastating damages by the 3/11/2011 great Eastern Japan earthquake , along with Japan Railways East (Tokyo) and Yamaha (Hamamatsu) proceed to Semi-Quarter Finals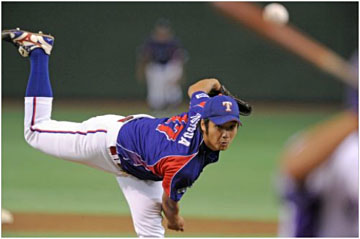 | | |
| --- | --- |
| Game 1: | Game 2: |
| | |
| Starter Toyoda of TDK (Nikaho). Photo by The Mainichi. | Hatakenaka of JR East (Tokyo) hammers a grand slam home run in the bottom of 5th inning. |
Game 3: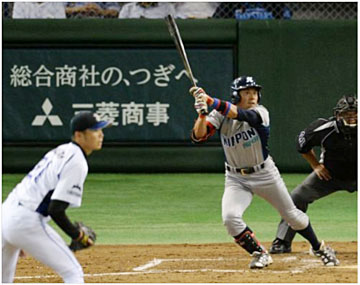 Goto of Nippon Paper doubled two runners home in the bottom of 2nd inning. Photo by The Mainichi
Ishinomaki baseball team continues successful run at intercity tournament
July 20, 2013 (Mainichi Japan)
Nippon Paper Industries' baseball team from Ishinomaki, Miyagi Prefecture, defeated JFE Steel Corp. 4-1 at the Intercity Baseball Tournament at Tokyo Dome on July 19 -- earning its first ever berth in the tournament's quarterfinals.
The Ishinomaki team is participating in the tournament for the first time in three years, and the second time overall. This is also the team's first tournament since recovering from the devastating tsunami damage that befell Ishinomaki during the March 2011 Great East Japan Earthquake disaster.
The team clinched its first victory on July 17. Players were backed by a cheering squad that continued to root for them during their July 19 game against the JFE Steel Corp. team, whose members come from Kurashiki, Okayama Prefecture, and Fukuyama, Hiroshima Prefecture. The stands were practically full with Ishinomaki supporters behind third base, while fans also filled over half of the left field seats.
In the quarterfinals, Nippon Paper Industries faces the East Japan Railway Co. team from Tokyo -- a powerhouse that has made it to the finals two years in a row.
The tournament is sponsored by The Mainichi Newspapers and the Japan Amateur Baseball Association.
□Results 84th Intercity Championship:
□July 19 Friday:
Yamaha (Hamamatsu) 1– 0 TDK (Nikaho)
Mitsubishi Heavy Industries, Yokohama 1 – 7 Japan Railways East (Tokyo)
JFE Nishi-Nihon (Fukuyama/Kurashiki) 1– 4 Nippon Paper, Ishinomaki
□July 18 Thursday:
JX-Eneos (Yokohama) 8– 3 Japan Railways, Hokkaido (Sapporo)
Mitsubishi Heavy Industries, Nagoya 0 – 4 Tokyo Gas (Tokyo)
Toshiba (Kawasaki) 2 – 1 Toho Gas (Nagoya)
□July 17 Wednesday:
TDK (Nikaho) 2 – 0 Hakuwa Victorys (Higashi Hiroshima)
Nippon Paper, Ishinomaki 7 – 3 Shinyetsu Koshiki Yakyu Club (Nagano)
Hitachi 2 – 1 Japan Railways, Tokai (Nagoya)
□July 16 Tuesday:
Yamaha (Hamamatsu) 2 – 1 Japan Railways, Kyushu (Kita-Kyushu)
JR Hokkaido (Sapporo) 3 – 0 Okinawa Power (Urazoe)
Osaka Gas (Osaka) 4 – 5 Toshiba (Kawasaki)
□July 15 Monday:
Mitsubishi Heavy Industries, Yokohama 4 – 3 Nippon Life Insurance (Osaka)
Panasonic (Kadoma) 4 – 3 Mitsubishi Motors, Okazaki
HONDA, Kumamoto (Otsu Machi) 0 – 1 Nichidai (Kyotanabe)
□July 14 Sunday:
Nippon Steel Sumitomo Metal Kazusa Magic (Kimitsu) 2 – 0 Sega Sammy (Tokyo)
Toho Gas (Nagoya) 2 – 1 NTT East Japan (Tokyo)
Oji Holdings (Kasugai) 0 – 2 Japan Railways East (Tokyo)
□July 13 Saturday:
Tokyo Gas (Tokyo) 3 – 1 Shikoku Bank (Kochi)
JFE West Japan (Fukuyama/Kurashiki) 7 – 3 HONDA (Sayama)
Mitsubishi Heavy Industries, Nagoya (Nagoya) 8 - 2 Nippon Steel Sumitomo Metal, Kashima (Kashima)
□July 12, Friday:
JX-Eneos (Yokohama) 3 – 2 NTT West Japan (Osaka)