News
2013-08-08
Summer is not summer in Japan without High School Baseball
95th National High School Baseball Championship at Koshien for 15 days from August 8 – by BFJ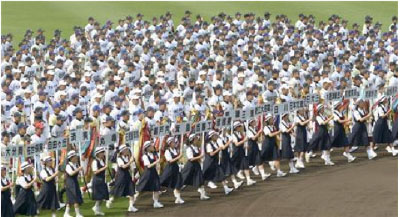 Total 49 teams of the winners of 47 regional (prefectural) championship (including 2 from Northern and Southern parts of Hokkaido and 2 from Eastern and Western parts of Tokyo) started to play knock-out competition at Hanshin Koshien Stadium in Nishinomiya, Hyogo Prefecture and every single game broadcast national by NHK. 4032 High School teams in 47 prefectures are currently registered with Japan High School Baseball Federation (JHBF)

President Lee, Byung-Suk, Continental Vice President of IBAF and President of Korea Baseball Association (KBA) and Mrs. Kim Eun Young, Vice President of KBA observed Opening Ceremony and a game of Day 1 on August 8 as special guests of JHBF.

The August 2 issue of The Japan Times characterizes Koshienen baseball as being:
The frenetic, non-stop cheering of student bodies:
The singing of the school song by the victorious nine: This honor follows every game.
The gathering of dirt: Losing teams typically scoop infield soil into their bags as a memento of having played on Japan's most hallowed field.
Weeping: Is there any nation on earth that enjoys a good cry as much as Japan? Koshien, with its single-elimination dramatics, offers the perfect opportunity. And television viewers across the land bite back tears in shared sympathy, an entire nation united as one in sniffles.