News
2013-08-10
Korea Baseball Association President Lee, Byung-Suk visits Koshien
National High School Baseball Championship is in progress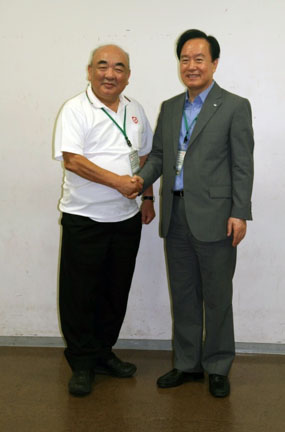 KBA President and Continental Vice President - Asia of IBAF Mr. Lee, Byung-Suk, accompanied by KBA Vice President Mrs. Kim Eun Young, observed the opening ceremony and the
Games of Day 1 on August 8 as special guests of JHBF at the ball park packed with over
40,000 fans.

On Day 2, President Lee and Vice President Kim visited Koshien again to meet President Takayasu Okushima of Japan High School Baseball Federation to discuss mutual exchange and development of high school baseball of Japan and Korea.

In response to the request of President Lee, the JHBF President shared his views on the current state and the background of success of high school baseball in Japan. JHBF Secretary General Maso Yamaguchi and BFJ Executive Director Masayuki Naito joined the discussions.