News
2013-09-03
18U BWC: Japan has no troubles with Czech Republic
Japan shuts out Czech Republic 15-0 to improve to 4-0 in the XXVI 18U Baseball World Cup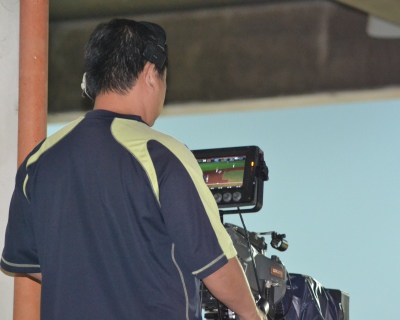 TAICHUNG CITY STADIUM. Japan scored in five of the six innings played to beat the Czech Republic 15-0 on Tuesday afternoon at Taichung City Stadium during the XXVI 18U Baseball World Cup in Taichung. Six runs in the second and four in the fourth blew the game wide open. Three pitchers combined to allow just one Czech hit on the afternoon, as Japan improved to 4-0. For the European vice champion it was the fourth loss in as many games.

Once again Japan could rely on strong pitching to provide the groundwork for the victory. Yuya Takahashi, Kona Takahashi and Kazuto Taguchi combined to allow just one hit through six innings, while 11 of the 19 batters they faced on strikeouts. The only blemishes were a two-out single of Tomas Andro in the fifth and a base runner after a throwing error of shortstop Ryo Watanabe in the first.

On offense Japan saw 13 players collecting hits; six of them had at least two. Yasuhito Uchida scored three times. Tomoya Mori went 3-for-3 with three RBI. David Vohanka surrendered ten hits, eight runs and four walks in two innings, taking the loss. Jan Gorecky also pitched for the Czech Republic in the game.

Japan will close out the first round on Wednesday with a matchup against Canada. The Czech Republic takes on Venezuela at Dou-Liou Stadium.


| | | | | | | | | | | | | | | | | | | | | |
| --- | --- | --- | --- | --- | --- | --- | --- | --- | --- | --- | --- | --- | --- | --- | --- | --- | --- | --- | --- | --- |
| JAPAN | ab | r | h | rbi | 2b | 3b | hr | bb | sb | cs | hp | sh | sf | so | ibb | kl | gdp | po | a | e |
| YOSHIDA cf | 3 | 1 | 1 | 1 | 0 | 0 | 0 | 0 | 0 | 0 | 0 | 0 | 0 | 0 | 0 | 0 | 0 | 0 | 0 | 0 |
| UEBAYASHI cf | 2 | 1 | 1 | 0 | 1 | 0 | 0 | 0 | 0 | 0 | 0 | 0 | 0 | 0 | 0 | 0 | 0 | 0 | 0 | 0 |
| KUMAGAI lf | 4 | 2 | 2 | 1 | 1 | 0 | 0 | 0 | 1 | 0 | 0 | 0 | 1 | 0 | 0 | 0 | 0 | 1 | 0 | 0 |
| MORI T dh | 3 | 2 | 3 | 3 | 0 | 0 | 0 | 0 | 0 | 0 | 0 | 0 | 0 | 0 | 0 | 0 | 0 | 0 | 0 | 0 |
| MORI R dh | 2 | 2 | 2 | 1 | 0 | 0 | 0 | 0 | 1 | 0 | 0 | 0 | 0 | 0 | 0 | 0 | 0 | 0 | 0 | 0 |
| UCHIDA 3b/1b | 4 | 3 | 1 | 1 | 0 | 0 | 0 | 1 | 0 | 0 | 0 | 0 | 0 | 1 | 0 | 0 | 0 | 3 | 0 | 0 |
| SONOBE 1b | 2 | 0 | 1 | 0 | 0 | 0 | 0 | 1 | 0 | 0 | 0 | 0 | 0 | 1 | 0 | 1 | 0 | 3 | 0 | 0 |
| OKUMURA 2b | 2 | 0 | 2 | 1 | 1 | 0 | 0 | 0 | 0 | 0 | 0 | 0 | 0 | 0 | 0 | 0 | 0 | 0 | 0 | 0 |
| WATANABE ss | 3 | 1 | 2 | 1 | 1 | 0 | 0 | 1 | 0 | 0 | 0 | 0 | 0 | 0 | 0 | 0 | 0 | 0 | 0 | 1 |
| TAKEMURA ss | 1 | 0 | 1 | 2 | 1 | 0 | 0 | 0 | 0 | 0 | 0 | 0 | 0 | 0 | 0 | 0 | 0 | 0 | 0 | 0 |
| ITSUZAKI 2b/3b | 2 | 1 | 1 | 1 | 0 | 0 | 0 | 2 | 0 | 0 | 0 | 0 | 0 | 0 | 0 | 0 | 0 | 2 | 2 | 0 |
| WAKATSUKI c | 4 | 0 | 1 | 1 | 0 | 0 | 0 | 0 | 0 | 0 | 0 | 0 | 0 | 0 | 0 | 0 | 1 | 9 | 2 | 0 |
| IWASHIGE rf | 4 | 2 | 3 | 2 | 1 | 0 | 0 | 0 | 0 | 0 | 0 | 0 | 0 | 0 | 0 | 0 | 0 | 0 | 0 | 0 |
| TAKAHASHI Y p | 0 | 0 | 0 | 0 | 0 | 0 | 0 | 0 | 0 | 0 | 0 | 0 | 0 | 0 | 0 | 0 | 0 | 0 | 0 | 0 |
| TAKAHASHI K p | 0 | 0 | 0 | 0 | 0 | 0 | 0 | 0 | 0 | 0 | 0 | 0 | 0 | 0 | 0 | 0 | 0 | 0 | 1 | 0 |
| TAGUCHI p | 0 | 0 | 0 | 0 | 0 | 0 | 0 | 0 | 0 | 0 | 0 | 0 | 0 | 0 | 0 | 0 | 0 | 0 | 0 | 0 |
| Totals | 36 | 15 | 21 | 15 | 6 | 0 | 0 | 5 | 2 | 0 | 0 | 0 | 1 | 2 | 0 | 1 | 1 | 18 | 5 | 1 |
JAPAN
ip
h
r
er
bb
so
wp
bk
hbp
ibb
ab
bf
fo
go
np
TAKAHASHI Yuya
3.0
0
0
0
0
5
0
0
0
0
9
9
1
2
39
TAKAHASHI Kona W,1-0
2.0
1
0
0
0
3
0
0
0
0
7
7
1
2
22
TAGUCHI Kazuto
1.0
0
0
0
0
3
0
0
0
0
3
3
0
0
13
Umpires - HP: ESCUDERO R (COL) 1B: HORII A (JPN) 3B: HU C-L (TPE)
Start: 14:30 Time: 1:41 Attendance: 250
Weather: Sunny Game notes: Scorers: TRAVAGLI M (ITA), HUANG P-S (TPE), HUANG P-S (TPE) T.C.: YEH C (TPE), TSAY C-C (TPE)