News
2013-10-24
Miyazaki to Host 6th Women's Baseball World Cup in 2014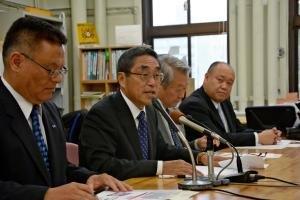 (Miyazaki, Japan) Masaaki Nagino, IBAF Executive Committee member and General Manager of International Department of Baseball Federation of Japan (BFJ) announced at a news conference at the prefectural government's office in Miyazaki that BFJ in conjunction with the local organizers have been awarded to host the said event at the Sun Marine Stadium and Ivy Stadium in Miyazaki, Japan from September 1 to 7, 2014.
Pending the details to be announced, LOC proposes the tournament format by 8 national teams on double round robin with 2 groups of 4 teams for first round play and top 2 teams from each group will advance to the medal round. 6 games are guaranteed for every participating team as the format incorporates consolation rounds for 3rd and 4th teams from both pools.
In addition to the Local Organizing Committee; Miyazaki City, Miyazaki Prefecture, Miyazaki broadcasting Company and BFJ, Miyazaki Convention and Tourism Association and Miyazaki Chamber of Commerce and Industry are in full support of the event so that it will serve as a forerunner to invite athletes from overseas to the 2020 Tokyo Olympiad.

The 2014 Women's World Cup will be the fifth edition of the event, a tournament that is held every two years. The United States won the first two World Cup tournaments, with Japan capturing the 3 consecutive titles since 2008.