News
2014-06-05
14 nations launch Francophone Association of Baseball & Softball
The new body targets growth in 77 French-speaking territories, which represent nearly 900 million people worldwide.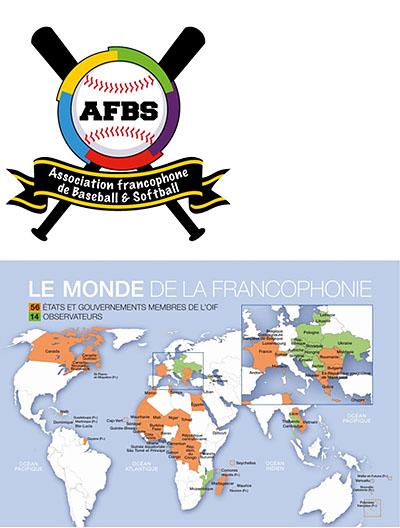 PARIS -- As baseball and softball's global footprint continues to expand and deepen, a new body dedicated to the promotion and immersion of baseball and softball in French-speaking territories has been born and will be headquartered in Paris, France.
Fourteen of WBSC's National Federations (Belgium, Bulgaria, Burkina Faso, Cameroon, Ivory Coast, Estonia, France, Lithuania, Ghana, Poland, Romania, Switzerland, Togo and Tunisia) have joined together to found the Francophone Association of Baseball Softball (AFBS).
The primary objective of AFBS will be to promote and develop baseball and softball in the "Francophonie", a network of 77 French-speaking countries and provinces that totals nearly 900 million people worldwide; WBSC and AFBS are particularly interested in serving the African continent where French is widely spoken and where baseball and softball has been seeing increasing participating numbers.
AFBS was launched surrounding the inaugural World Baseball Softball Congress that was held last month in Hammamet, Tunisia, where the founding nations elected the French Federation of Baseball & Softball president, Didier Seminet, to lead AFBS as its initial president.
The framework of AFBS's development programme will focus on the production, sharing and distribution of French-language baseball-softball literature and teaching materials -- such as rules, instruction/training manuals, videos and other fundamental introductory items geared for grassroots development, as well as for school physical education programmes for children and teens.
Also as part of AFBS's strategic-plan targeting the 77 territories, baseball-softball kit donations will be organised to support ongoing programmes within the Francophonie and to provide the necessary tools to introduce new programmes, increasing opportunities for youth to engage in baseball and softball.
Efforts across Francophone nations will be led by AFBS to introduce baseball-softball as a viable and accessible pathway into sport, and as a powerful and attractive platform with which to connect to youth and women -- and to encourage physical activity and promote the health benefits of sport.
Currently, it is estimated that over 65 million athletes practice the sport of baseball and softball in over 140 countries, with youth and females making up the majority of participation-demographics.
Event planning for AFBS includes the 2017 Youth Under-12 Mixed Baseball Francophone Championship (to take place every four years).
AFBS leadership will explore whether the first competition could be staged alongside the 2017 Francophone Games in Abidjan, Ivory Coast, in order to afford Francophone Games officials an opportunity to evaluate baseball-softball for possible inclusion in future Francophone Games.
"Under the guidance of the World Baseball Softball Confederation (WBSC), AFBS aims to increase the spread of baseball and softball knowledge and practice in French-speaking regions -- especially in Africa, where new baseball and softball construction projects have been taking place and where additional support is needed to optimise growth," said AFBS President Seminet.
Ghana, an AFBS founding member, recently inaugurated the country's historic first-ever national baseball and softball venue in April, only a few months after the Central-African country of Uganda managed the same accomplishment.
The WBSC president, Riccardo Fraccari, hailed the founding of AFBS a major boost for the positioning of baseball and softball as one of the world's leading global sports, particularly as WBSC and its partners continue working hard to demonstrate that including baseball/softball to the Olympic Games will serve to strengthen the Olympic Movement, especially among worldwide youth and women demographics.
"French is a global language and it is the official language of the Olympic Movement," said Fraccari. "This new advancement highlights the increasing relevance and universal appeal of baseball-softball in new and emerging territories, where they are steadily gaining a foothold and being taught in schools and on the playgrounds -- and becoming more immersed in the culture as a sport that anyone can play and enjoy."
The World Baseball Softball leader also indicated that AFBS will have an integral role in WBSC's growth strategy.
"AFBS will be an invaluable partner to WBSC moving forward, and I have every confidence in President Seminet to lead this important movement, which will contribute to the sustained growth and expanded reach of our sport over the long-term, especially as WBSC targets a stronger presence on the African continent."
While baseball and softball continue to penetrate new markets and territories, the recently elected WBSC president has expressed that "the WBSC will be fully committed" to placing baseball and softball's global assets at the service of the Olympic Movement.