News
2014-06-10
63rd All Japan University Baseball Championship Opened in Tokyo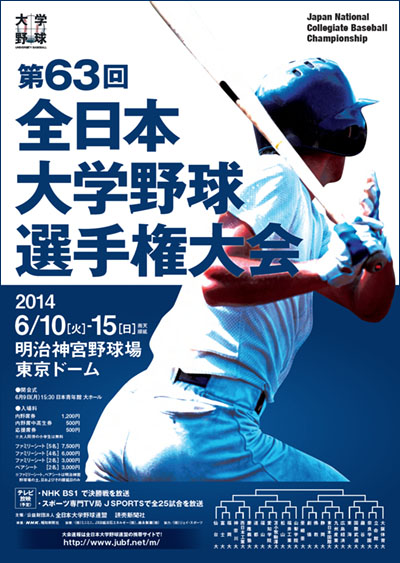 26 Regional Champions of University Baseball Teams started the 63rd National Championship in elimination tournament at Tokyo Dome and Meiji Jingu Stadium for 6 days from June 10, 2014.

Day 1 at Meiji Jingu Stadium: Fuji Univ. 0-1 Fukuoka Univ., Kanagawa Univ. 7-0 Nishinippon Institute of Technology, Dohto Univ. 8-1 Fukuyama Univ., Aichi Gakuin Univ. 5-0 Tomakomai Komazawa Univ.

At Tokyo Dome:
Matsuyama Univ. 0-6 Fukui Univ. of Technology, Soka Univ. 4-0 Bukkyo Univ., Shizuoka Univ. 1-2 Higashi Nippon International Univ., Kyushu Sangyo Univ. 1-0 Hiroshima Univ. of Economics.