News
2014-07-13
Japan Defeats Chinese Taipei 2-0:
College National Team Honkbal Week
Team USA no-hits Netherlands, 3-0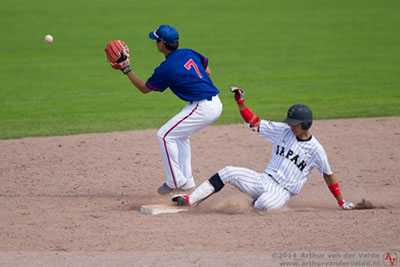 July 12, 2014 (by HNW translated by Babel Fish)

HAARLEM, The Netherlands The pitchers to get Friday's game seemed a follow-up during the first Saturday game. On some action in the fourth inning after, not much happened. Takuya Sato ran harder than he could throw, making the Taipei outfielders from a single to a double. A:Taipei gave then was walked intentionally to Mogi, but this choice turned out to be not the right: Shogo Nakamura rammed a triple into the right field corner, making Japan a 2-0 lead- What also has become the final result.


Team USA no-hits Netherlands, 3-0
Carson Fulmer, Tyler Jay, Dillon Tate and Ryan Burr combine on no-hitter

(By USA Baseball) Four pitchers - Carson Fulmer (Vanderbilt), Tyler Jay (Illinois), Dillon Tate (UCSB) and Ryan Burr (Arizona State) - combined to throw the third no-hitter in the history of the USA Baseball Collegiate National Team on Saturday as it defeated the Netherlands, 3-0, in front of a packed house at Pim Mulier Stadium during Honkbal Week.
The no-hitter is the third in the history of the Collegiate National Team and the first on international soil. Both of its previous no-hitters came in Cary, N.C, where it held Korea hitless on July 14, 2010, and no-hit Guatemala on July 2, 2009.