News
2014-07-19
Japan beats Netherlands (2-1) and will advance to the final:College National Team Honkbal Week
U.S. advances to Honkbal Week championship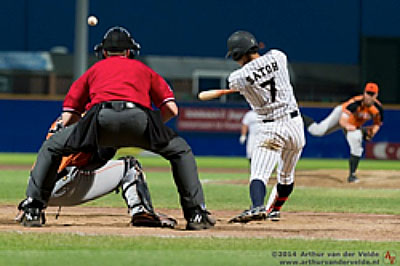 July 19, 2014 (by HBW translated by Babel Fish)

Saturday night was a place in the final against America. Japan and Netherlands were allowed to decide which of the two should play another game on Sunday. Still equal after nine innings because the tiebreaker, was decisive. Japan knew it to score the winning run and they qualified for the final.

U.S. advances to Honkbal Week championship
Dansby Swanson finishes 3-for-4 with two runs scored in the win

July 19, 2014 (USA Baseball)
HAARLEM, The Netherlands - The USA Baseball Collegiate National Team advanced to the championship game at Honkbal Week with a 4-1 win in a semifinal showdown against Chinese Taipei at Pim Mulier Stadium on Saturday.
With the win Team USA improves to 17-3-2 overall this summer, including a 6-1 record at Honkbal Week. It will play Japan in the championship contest at 2 p.m. local time (8 a.m. ET) on Sunday. Louisville right-hander Kyle Funkhouser will take the mound for the U.S.