News
2014-07-19
Paralympic Swimmer Keiichi Kimura throws ceremonial first pitch :Intercity Baseball Tournament
Day 1, July 19, 2014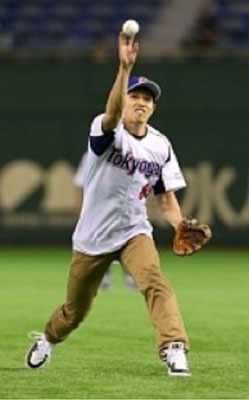 2012 London Paralympic swimmer Keiichi Kimura (23) threw out the ceremonial first pitch at Intercity Baseball Tournament taking place this weekend in Tokyo. A vision impaired competitor, Kimura has never played baseball before. 6,000 colleagues of Tokyo Gas Co. where Kimura works at Personnel Department cheered for him following his throw. Mainichi Newspapers quotes Kimura as saying, "I was nervous about the same as the race of the Paralympics."
The Intercity Baseball Tournament is in its 85th edition, and 34 corporate teams from around the country are participating in the event being held at the Tokyo Dome. Following Kimura's throw, the first game was played between Tokyo Gas and Sendai-based 77 Bank (Shichiju-Shichi Ginko) with Tokyo Gas won 6-1.
Kimura carried the flag for Japan at the 2012 Summer Paralympics opening ceremonies in London, and then went on to win a silver in the men's 100 metre breaststroke SB11 race and a bronze in the men's 100 metre butterfly S11 event. More recently, at last year's IPC Swimming World Championships, he won a gold medal in the men's 100 meter freestyle S11 race and a bronze medal in the men's 200 meter individual medley SM11 event.