News
2014-07-30
Historical Visit by Imperial Couple to Intercity Baseball Tournament

July 30, 2014
Tokyo: Final day of the 85th Intercity Baseball Tournament at Tokyo Dome on July 29, 2014 was graced by the historical visit by the Imperial Couple. Emperor Akihito (80) visited the 30th Tournament in 1959 when he was Prince to watch semi-finals between Kurashiki Rayon (Okayama) and Daishowa Paper (Yoshiwara) at the Korakuen Stadium, predecessor of Tokyo Dome. However, this was the first time for Her Majesty, Michiko (79).
The Japanese monarchy, the oldest continuous hereditary monarchy in the world, help to promote amateur sports by presenting trophies and attend games. The Imperial Couple made appearance on the Royal Box behind the plate on 3rd floor of Tokyo Dome to the immense delight of 30,000 spectators before the top of 6th, enjoyed not only the thrilling pitcher's duel, but colorful non-stop cheer squads. Emperor asked an accompanying BFJ official during the game if off-speed pitches are difficult to hit. The couple watched the game won by Seino Transport against Fuji Heavy Industry 2-0, and stayed till the presentation of Black Lion Flag at the closing ceremony.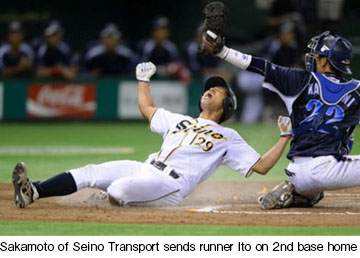 Intercity Baseball Tournament is jointly sponsored by Japan Amateur Baseball Association (JABA), an affiliate of Baseball Federation of Japan (BFJ) and The Mainichi Newspapers Co. With combined Baseball and Softball being by far the most popular sport in Japan, BFJ and Japan Softball Association are coordinating with the World Baseball Softball Confederation (President Riccardo Fraccari of Italy) to reinstate the sport to 2020 Tokyo Olympic. The 12 day tournament attracted over 500,000 fans who rooted for their favorite teams out of 34 from across the country。
Seino Transportation will travel to Paris to participate in the "Yoshida Challenge", an International baseball event in honor of Yoshio Yoshida who serves as IBAF Ambassador of Olympic Reinstatement, from September 5 to 9, 2014 at the Templiers Senart facility just south of Paris. It will serve as European Championship preparation for the participating teams France, Netherlands and Belgium.
Seino Transportation Co., a subsidiary of Seino Holdings Co., Ltd. (established in 1930) is headquartered in Ogaki City, Gifu Prefecture and started its baseball club in 1960. The runners-up, Fuji Heavy Industries (NASDAQOTH: FUJHY ) , the parent company of Subaru cars and, has its baseball club in Ota City, Gunma Prefecture since 1953.