News
2014-08-27
Japan's Osaka University wins inaugural Women's Baseball 'LG Cup'
LG CEO: "These athletes give us much to look forward to next year."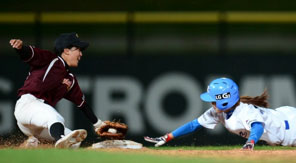 SEOUL, South Korea — The inaugural 2014 LG Cup -- organized by LG Electronics (LG) in partnership with the International Baseball Federation (IBAF) and the Women's Baseball Association of Korea (WBAK) -- came to an exciting conclusion in its final game on August 25th.
One-hundred and fifty female baseball players from around the world took the field at LG Champions Park, with Japan's Osaka University of Health and Science being crowned the first-ever LG Cup champion. Taking place from August 22-25 in Icheon, South Korea, the LG Cup 2014 was organized to support the international growth of women's baseball and encourage women from all backgrounds to participate in one of the world's most popular sports.
The first ever LG Cup hosted eight clubs from seven nations, including Australia, Hong Kong, India, Japan, South Korea, Taiwan and the United States,
"The tournament brought together the world's best female baseball players in the spirit of teamwork and sportsmanship," said Tomimoto Miyuki from Osaka University, the tournament's MVP. "Playing so well and winning the tournament was a special experience for me that I will never forget for as long as I live."
In attendance at the closing ceremony after the final game were the key figures responsible for organizing the first LG Cup: LG CEO Bon-joon Koo, LG executive vice president Wayne Park and WBAK vice chairman Kwang-hwan Lee. Mr. Koo awarded the trophy to the top three winning teams and key players with LG products.
"LG is proud and honored to be able to provide an opportunity for women to participate at such a high level in a sport that should be open to every player who loves the game," said LG CEO Koo. "These athletes' passion for the game made a deep impression on the fans and gives us much to look forward to next year."
Women's international baseballl will continue to take the sportlight when the eight-nation ENEOS Presents VI IBAF Women's Baseball World Cup opens next Monday, the 1st of September.