News
2014-09-09
Japan's gold at successful 10-year anniversary of Women's Baseball World Cup in Japan highlights national support for baseball, softball at Tokyo 2020 Olympic Games
WBSC to redouble efforts and work with Olympic officials to bring baseball and softball dreams to Tokyo 2020 Games.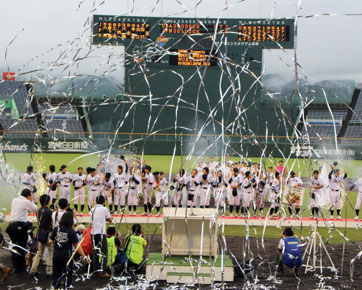 LAUSANNE, Switzerland -- Record crowds, along with strong broadcast viewing and social media figures, for the Women's Baseball World Cup in Miyazaki Japan, which were driven by the gold medal winning performance of the Japanese Women's Baseball National Team -- "Madonna Japan" -- have added to the growing chorus of national support in Japan that is being echoed in other parts of the world for baseball and softball to be included at the Tokyo 2020 Olympic Games.
The champion Japanese women's baseball team captured gold at the ENEOS Presents VI Women's Baseball World Cup, defeating the United States, 3-0, in front of another record crowd of 14,500 fans at Sun Marine Stadium and a nationally televised audience via TV Asahi. (See photos.)
A total of twenty-four games were contested in Miyazaki for the VI Women's Baseball World Cup -- the world's premier global platform for elite female baseball players -- and included the eight nations of Australia (bronze medal winner), Canada, Chinese Taipei, Hong Kong, Japan, Netherlands, United States and Venezuela.
News of Madonna Japan's fourth straight world title quickly spread in Japan through social media and was trending on Twitter, following a tweet from the public relations unit of Samurai Japan, the entity that oversees all of Japan's national baseball teams.

The sixth edition of the Women's flagship baseball event in Miyazaki marked the 10-year anniversary since the birth of the Women's Baseball World Cup in Edmonton, Canada in July of 2004.

World Baseball Softball Confederation (WBSC) President Riccardo Fraccari said the deep love for the bat-and-ball sports in Japan could be seen again throughout the latest tournament with record crowds and strong broadcast and online viewing audiences demonstrating the added excitement and passion that softball and baseball could bring to the Tokyo 2020 Olympic Games.

Fraccari said he was encouraged that a more flexible approach to the inclusion of sports at the Olympic Games was under consideration by the IOC and is expected to be discussed at a special IOC session in December in Monaco paving the way possibly for more sports and disciplines at the Olympic Games.

"Baseball and softball are the two most important and popular national sports in Japan and hold a special place in Japanese society and history," said President Fraccari. "The presence of baseball and softball at the Tokyo 2020 Olympic Games would help inspire and draw the attention of millions of fans, young people, women and communities across Japan and around the world -- helping to further position the Olympic Games as the greatest show on earth.
"This can serve to enhance the legacy of Tokyo 2020 and the Games-experience for the spectators, all the athletes, and make the Games even more exciting and relevant in many other nations and regions where baseball and softball have strongholds and where they are fast continuing their emergence, including in Europe, Africa, the Middle East and Muslim cultures and communities where adaptable rules and dress codes for softball have proven popular with women and young girls keen to play sport," Fraccari said.

Last Monday, the ENEOS Presents VI Women's Baseball World Cup successfully kicked off in front 14,500 energetic and passionate fans -- the largest ever crowd to attend a women's international baseball competition -- a milestone that was again repeated during Sunday's gold medal finale.

Coverage of the VI Women's Baseball World Cup was delivered to global audiences via Mexico City-based AYM Sports, whose online simulcast via internetv.tv was expanded to include in-game commentary in three languages (from Japanese) midway through the event to include English and Spanish to enhance the fan-experience, due to the positive reception and rising interest from audiences tuning in to watch the women's sport showcase through online and mobile devices.
In addition to positive audience growth (in-stadia and digital), the Women's World Baseball Cup -- and women's sport, in general -- was boosted by the backing of Japanese oil giant, Tokyo-based JX Nippon Oil & Energy Corp, under its "ENEOS" brand.

The Royal Couple -- His Imperial Majesty Akihito, the Emperor of Japan, and the Empress, Her Majesty Michiko -- earlier in the year attended the Intercity Baseball Tournament finale, along with 30,000 spectators at the famed Tokyo Dome, highlighting just how much baseball and softball are deeply rooted and embrace all levels of Japanese society.

Women's Baseball World Cup Expansion in 2016

The Women's Baseball World Cup -- still considered to be in its infancy by the WBSC, especially compared to the two flagship and global disciplines of men's baseball and women's softball -- will next be celebrated in 2016 and has been awarded to another baseball-softball nation, South Korea, where the global women's baseball showcase will be expanded from eight to twelve participating nations -- including host nation South Korea -- to meet demand and keep up with the growing global development of baseball and softball and to promote more opportunities in women's sport.

Leading to 2016, WBSC announced a new partnership with LG Electronics that launched a new annual women's international baseball tournament, the LG Cup, in Incheon, South Korea to open new doors for women to become involved and receive the benefits of sport -- from the playground to the boardroom.