News
2014-09-13
Latest World Baseball Rankings released: Panama takes over No. 12 from Mexico in battle to qualify for 2015 Premier 12
USA, Japan, Cuba and Chinese Taipei still reside on top of the baseball world, with no changes between Nos. 1-4.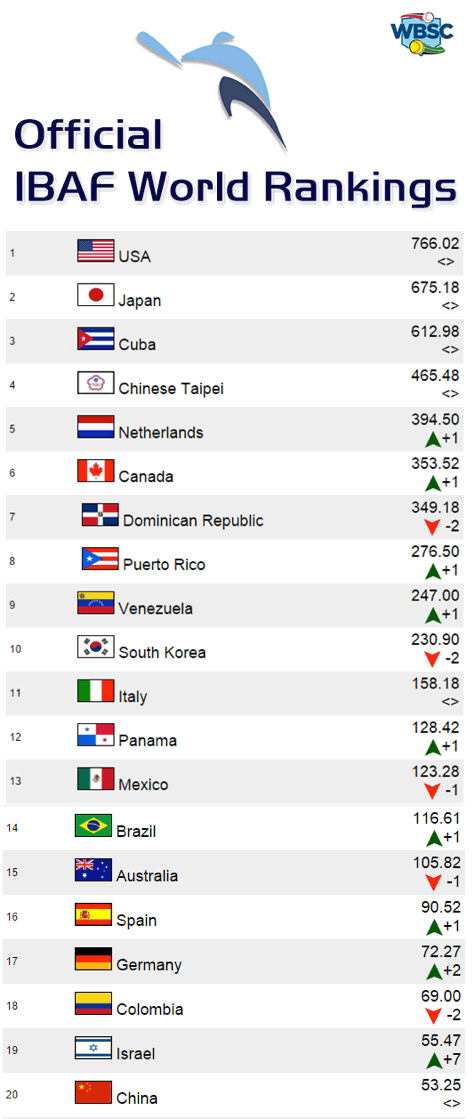 Saturday, September 13, 2014

LAUSANNE, Switzerland – The latest Official IBAF World Rankings, as recognised by the WBSC, have been calculated and see a change in the all-important top 12 in the fight to become a 2015 "Premier 12" nation – the new flagship international tournament that will feature professional players and will hand out a US$ multi-million purse of prize money to the participating National Teams/National Federations.

USA, Japan, Cuba and Chinese Taipei still reside on top of the baseball world, with no changes between Nos. 1-4.
But Panama has now risen into the top 12, while Mexico has moved down in the IBAF World Ranking to No. 13.
It was announced back in July, that the IBAF World Rankings will be the exclusive qualification method to compete in baseball's newest international showcase, The Premier 12. The top 12 ranked-nations in the world will earn a spot to compete in the first-ever Premier 12 in Taiwan in November 2015.
The current IBAF World Rankings update takes into consideration the recent results of various 2014 IBAF-sanctioned events, most notably the 15U Baseball World Cup in Sinaloa, Mexico that was won by Cuba.
The current rankings also reflect expired events (beyond the 4-year cycle), with all points earned from IBAF-sanctioned events in 2010 no longer valid (i.e., 18U Baseball World Cup, Asian Baseball Cup, Asian Games, CEB European Championship, Central American and Caribbean Games, COPABE/IBAF Americas Championship, FISU World University Baseball Championship, Intercontinental Cup, and Southeast Asia Games).
Upcoming Events
The winner of the 21U Baseball World Cup in Taichung, Taiwan, which will conclude the 2014 rankings calendar this November, will earn 100 points. No. 11 Italy, No. 13 Mexico and No. 15 Australia have all confirmed their participation in the 21U World Championship.

No. 2 Japan, No. 4 Chinese Taipei, No. 10 South Korea and No. 9 Venezuela will also be competing in the first-ever 21U world championship.

21U Baseball World Cup points distribution - 10-Nation tournament:
1. 1st - 100 points
2. 2nd - 80 points
3. 3rd - 60 points
4. 4th - 30 points
5. 5th - 25.33 points
6. 6th - 20.67 points
7. 7th - 16 points
8. 8th - 11.33 points
9. 9th - 6.66 points
10. 10th - 2 points
Other IBAF-sanctioned events still to be contested include the Asian Games in South Korea and the European Championship that starts today, which is being co-hosted by Czech Republic and Germany. Any newly proposed events or international competitions for the 2014 calendar may still be approved for IBAF-sanctioning, but IBAF will not be awardeding ranking points for new such events, in order to safeguard the integrity of the final 2014 IBAF World Rankings.
Movers
No. 5 Netherlands – Europe's best-ranked nation – and No. 6 Canada overtook the Dominican Republic, which dropped two spots to No. 7.
No. 40 Slovenia made the biggest leap forward, jumping ahead twenty-one spots from the No. 61 position.
No. 46 Romania and No. 53 Hungary also made big moves, advancing eighteen and twelve places within the rankings, respectively.
2015 Rankings System
The rankings methodology is currently being reviewed in order to optimize the transparency of the rankings and enhance their relevance for all of IBAF's Member Federations. The new system would possibly be implemented at the beginning of 2015, pending approval of baseball's world governing body.