News
2014-10-22
Samurai Japan announce 18 of 24 players for 21U World Cup
New 21U Championship highlights global youth appeal and interest in baseball among young people in countdown to Olympic decision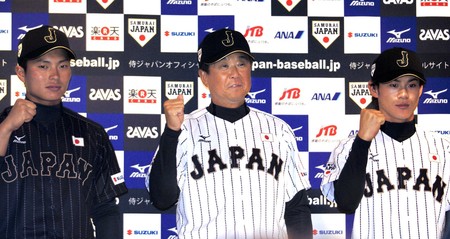 By Baseball Federation of Japan
Samurai Japan, aiming to unite all generations of ballplayers under a common jerseys and challenge to become world champions, unveiled 18 players out of 24 of the national team comprising professional players and amateurs for the inaugural 21U Baseball World Cup in Taichung, Taiwan from 7-16 November. The remaining 6 players will be announced later.
Young professional players include pitcher Naoyuki Uesawa of Hokkaido Nippon Ham Fighers with 8 wins and Seiya Suzuki of Hiroshima Toyo Carp in his 2nd year with .344 for 36 games in 2014 season. 3 pitchers from amateur industrial league on roster are: Taisuke Yamaoka (Tokyo Gas), Kyosuke Nomura (Mitsubishi Hitachi Power Systems Yokohama) and Yuya Yokohama (Nippon Steel Sumitomo Metal Kashima)
Manager Katsuo Hirata, current head coach of Osaka Hanshin Tigers minors, thanked the honor to manage the young hopefuls and pledged to win the championship.
LIVE BASEBALL BROADCAST
J-Sports, the largest sports TV stations in Japan reaching out to 7 million house holds, will broadcast all Samurai Japan's games live as well as on internet.
The Baseball/Softball family under the World Baseball Softball Confederation (WBSC) along with other sports federations, are awaiting the outcome of the International Olympic Committee's review -- to be announced in December at a special Session in Monte Carlo -- on the process for adding/dropping sports to the Olympic programme, which may allow a new opportunity to have the bat-and-ball's Olympic status restored in time for inclusion at the 2020 Olympic Games in Tokyo, Japan, where baseball and softball are leading national sports and are supported passionately at all levels of Japanese society.



TOURNAMENT SCHEDULE
Forty-three games have been announced by WBSC for the 2015 21U Baseball World Cup, which will be centred around the modern venues of Douliu Baseball and Taichung Intercontinental Baseball Stadium, the latter of which will host the Opening and Closing Ceremonies.
GROUPS / TOURNAMENT FORMAT
The Baseball World Cup Tournament Commission has divided 21U Baseball World Cup teams into two Round Robin groups to open the world championship:
Group A (World Ranking) Group B
Chinese Taipei (No. 4) Australia (No. 15)
Czech Republic (No. 26) Japan (No. 2)
Italy (No. 11) Netherlands (No. 5)
Mexico (No. 13) Nicaragua (No. 28)
New Zealand (No. 25) Venezuela (No. 10)
South Korea (No. 8)
Days 1 - 5 will see twenty-five games of round robin action, followed by a rest day, and teams will be battling to finish among the top three nations of their respective groups in advance into the "Super Group".
SUPER ROUND ROBIN AND FINALE
Days 7, 8 and 9 will feature the top three finishers from Group A colliding with the top three finishers from Group B in the elite nine-game "Super Round-Robin". The Super Round Robin is a continuation of the opening round-robin, as head-to-head matches and win/loss records against Super Group members carry over from the opening round robin.
The nations not advancing to the Super Round Robin will be grouped together to battle for 7th - 12th place in the Consolation Round Robin.
Day 10: The top two teams escaping the highly-competitive and intense Super Round Robin to finish at the top of the Super Group Standings will play in the gold medal finale on Sunday, 16-Nov, while the third- and fourth-place teams will play for bronze.
23U PLAYERS ON ROSTER
National Teams will be allowed to carry six 23U players on their 21U Baseball World Cup 24-man rosters, which will further strengthen the competition level. Teams will be able to make use of a maximum of three 23U players in the line-up at the same time.

2014 AND BEYOND
Following the first-ever 21U Baseball World Cup, the event will be played every two years, with the hosting rights of the next edition in 2016 having been awarded to Sinaloa, Mexico, which recently delivered a highly successful 15U Baseball World Cup.