News
2014-10-24
College pitcher beats brain tumor on way to first-round draft selection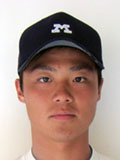 (Mainichi Japan)
Twenty-two-year-old pitcher Sachiya Yamasaki's baseball dreams came true on Oct. 23 when he was selected in the first round of the Japanese pro baseball draft, but he had to overcome a lot more than the competition to get there -- he had to beat a brain tumor.
"I owe everything to those who have been there for me," the Meiji University senior told a news conference on Oct. 23 after the Orix Buffaloes of the Pacific League made him their first pick of the 2014 draft.

Yamasaki was born into a baseball family. His father Akihiro, 53, was the Yomiuri Giants' second pick in the 1979 draft and is now a manager of the Hyogo Blue Sanders of the independent league; and his 24-year-old brother Fukuyuki is playing with Sega Sammy in the Japanese Industrial League.

In 2008, when he was a third-year junior high school student, Yamasaki was diagnosed with a brain tumor after going through a medical checkup to enter Nihon University's Third Junior & Senior High School. The tumor was found under the cerebellum near the medulla oblongata, the lower half of the brainstem.
"I went blank. I thought I was going to die," Yamasaki recalls.

The then 15-year-old Yamasaki did not give up on his dream, though. He told his doctor that he wanted to be a pro baseball player, and the doctor wrote that down on his chart. The teen had the tumor removed surgically on March 21, 2008.

Yamasaki made a full recovery, and has been tumor-free since. He was also an instant success on the high school ball field, being selected for the first string from his freshman year on. By his last year of high school, Yamasaki was the team ace, and was on the mound when his team took second place in the 2010 National High School Baseball Invitational Tournament. The pitcher also has 20 wins in the Tokyo Big 6 Baseball League of major university teams in the Japanese capital.

After the draft, Orix Buffaloes manager Hiroshi Moriwaki visited Yamasaki at his dorm and congratulated the soon-to-be professional ballplayer.

"I'm looking forward to seeing his baby face turning serious when he puts on his uniform," Moriwaki said.
Yamasaki expressed his eagerness to succeed in the pros, saying, "I'll make every effort for those who are suffering from illnesses."