News
2014-11-17
Chinese Taipei defeats new world No. 1 Japan to capture 21U Baseball World Cup crown
Asia claims 21U gold, silver and bronze.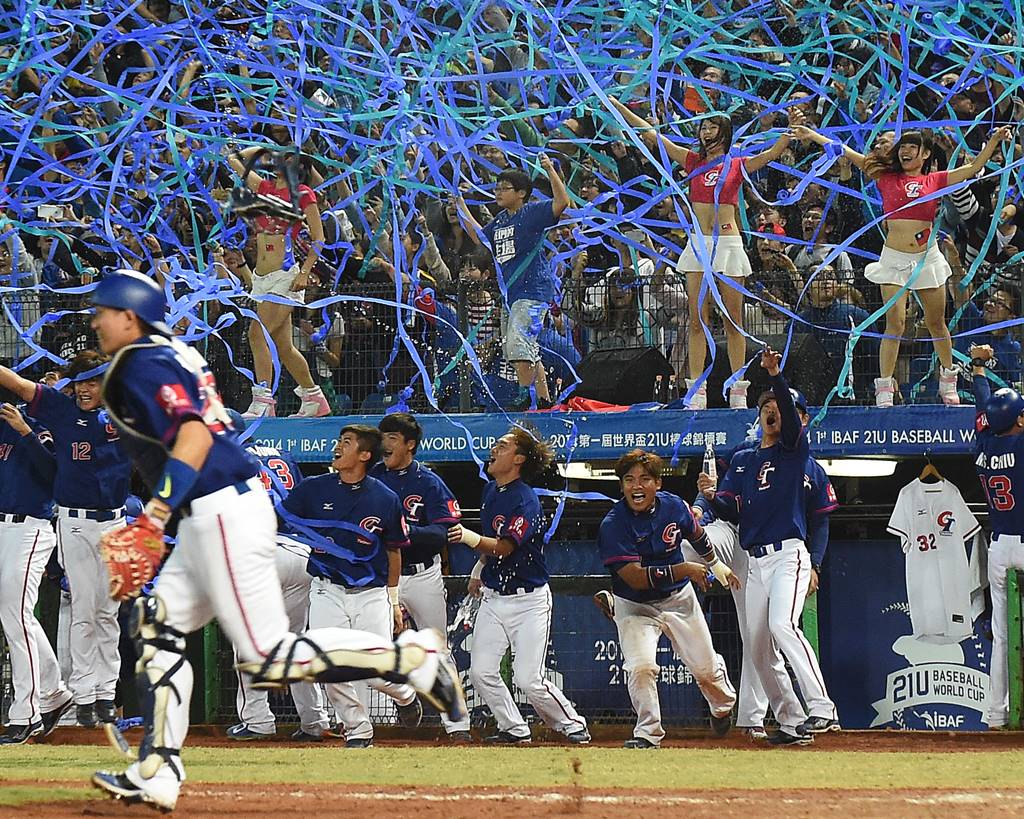 TAICHUNG, Taiwan – Chinese Taipei shutout Japan, 9-0, on Sunday night to win the inaugural WBSC 21U Baseball World Cup, becoming baseball's world champions in the new 21-year-old age category before an electric crowd at Intercontinental Stadium.
Starter Chun-Lin Kuo earned the victory for Chinese Taipei in the title match and was named the 21U Baseball World Cup Most Valuable Player. Kuo was also the starting pitcher for silver-winning Chinese Taipei in the gold medal finale versus South Korea at the recent Asian Games in Incheon.
Chinese Taipei delivered "Samurai Japan" their only defeat in the 43-game tournament; Japan had entered the gold medal finale with a perfect 7-0 record, including a prior 6-2 victory over Chinese Taipei to conclude the Super Round Robin Saturday.
It was the first world championship for Chinese Taipei, the world No. 4 in the WBSC Official World Rankings, since the host nation won the inaugural 12U Baseball World Cup that was staged in Taipei in 2011.

With the silver medal performance, Japan becomes the new world No. 1, bypassing USA, who will drop to No. 2.
Earlier on Sunday, No. 8 South Korea defeated Nicaragua, 10-4, to earn the bronze medal. Nicaragua's world rank will be boosted from No. 28 No. 18. In the 5th/6th-place contest, Czech Republic narrowly defeated Australia, 6-5, which will see Czech Republic's standing in the world ranking jump from No. 26 to No. 20, while Australia will advance two spots to No. 13 – just outside the "Premier 12" threshold.
Italy, Venezuela, Netherlands, New Zealand and Mexico (in order) finished the global event 7th - 11th.
The 21U showcase featured players representing their countries from top professional leagues, such as the Australian Baseball League (ABL), Chinese Professional Baseball League (CPBL), Korea Baseball Organization (KBO), Mexican Baseball League (LMB) and Nippon Professional Baseball (NPB).
Baseball's official world championships, under the WBSC/IBAF, have been staged across the 12U, 15U, 18U and professional -- "Premier 12" (in 2015) and the World Baseball Classic -- categories, but the event in Taichung marked a key expansion of the Baseball World Cup platform into the youth/professional category.
USA is the reigning 12U and 18U World Champion, while Cuba is the 15U World Champion and the Dominican Republic is the men's World Champion.

The next edition of the 21U Baseball World Cup, which is staged every two years, will be hosted by Sinaloa, Mexico in 2016.