News
2014-11-19
Baseball gets boost for Olympic return in 2020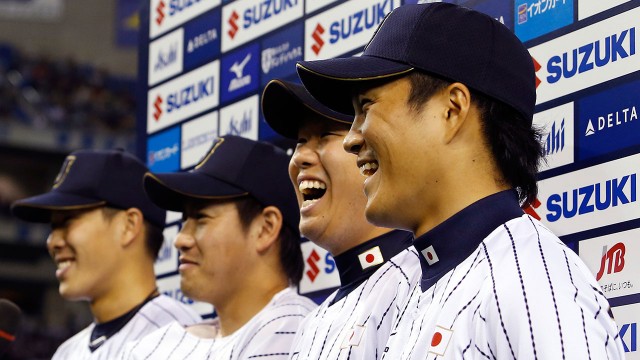 (Associated Press) TOKYO — Baseball and softball's bid to return to the Olympic program got a boost Wednesday as organizers of the 2020 Tokyo Games considered ways the International Olympic Committee's reform agenda could impact planning for the event.
Wrapping up the second day of meetings in the Japanese capital, IOC Vice-President John Coates and Olympic organizing chief Yoshiro Mori spoke on how the 40 proposals released Tuesday as part of IOC President Thomas Bach's reform agenda could affect planning for Tokyo 2020.
The proposals would allow host cities to propose the inclusion of one or more events for their games — a move which would clear the way for baseball and softball to be included in the 2020 Games.
Baseball and softball appeared in the Olympics from 1992 to 2008, but IOC members voted to drop them from the program after the Beijing Games — the first sports to be excluded since polo in 1936.
The sports were eventually replaced by golf and rugby sevens, both of which will join the program at the 2016 Rio Olympics.
"In the case of Japan, including baseball and softball would be a great idea," Mori said at a news conference on Wednesday. "The two sports are very popular in Japan and having them in the program would be a big plus."
The reforms, called "Olympic Agenda 2020," will be put to a vote by the full IOC at a special session in Monaco on Dec. 8-9. Barring any surprise, most or all the recommendations are expected to be passed.
The reforms could also allow Tokyo organizers to alter their initial plan of having the majority of venues located within an 8-kilometre (5-mile) radius of the Olympic Village — one of the key components of Tokyo's bid for the games.
Under the new proposals, the IOC would allow "the organization of entire sports and disciplines outside the host city or, in exceptional cases, outside the host country notably for reasons of geography and sustainability."
With cost concerns now causing Japanese Olympic organizers to review their initial plans for the venues, the reforms proposed by the IOC could clear the way for them to move some events outside the proposed 8-kilometre (5-mile) radius.
During their two-day visit to Tokyo, members of the IOC's co-ordination commission visited Saitama Super Arena, a 37,000-seat multipurpose venue about one hour north of Tokyo that has been mooted as a possible alternate location for the Olympic basketball competition.
"It was a great experience when we went to the Saitama Super Arena," Coates said. "We are also mindful that it was the sight of the basketball world championships in 2006 and it was very successful."
Coates also suggested that preliminary events in basketball and soccer could be held in cities outside of Tokyo.