News
2014-11-24
Baseball Joins Celebration of Softball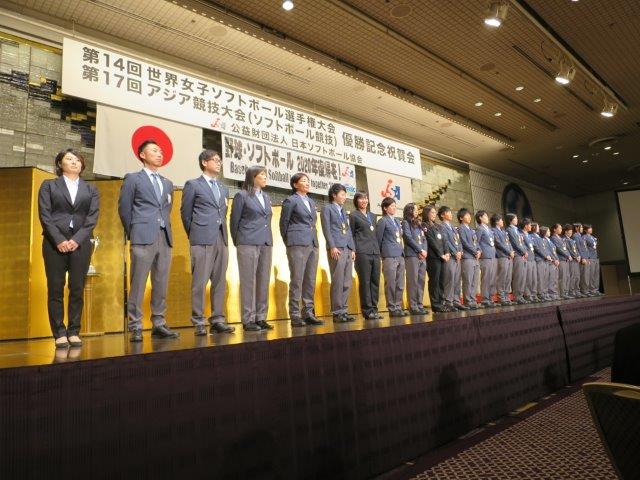 Tokyo - Against the backdrop of the IOC's most recent move which would clear the way for baseball and softball to be included in the 2020 Tokyo Olympic Games, the Japan Softball Association (JSA) celebrated the historic feat of its National Women's Softball team for winning two World and four Asian championships in a row.

Some 300 guests joined the celebration at Hotel New Ohtani in Tokyo on Sunday, November 23. Hiroshi Tokuda, President of JSA, opened the party, thanked team members and stakeholders for their efforts, and pledged to join hands with baseball to bring both sports back to Olympic.

Takeshi Aoki, Executive Director of the Japanese Olympic Committee delivered a congratulatory note and Jotaro Ueji, Executive Vice President of Mizuno, proposed a toast. Eiji Hatta, Baseball Federation of Japan, stressed "We need to combine forces to foster such an environment as enjoy wide popular support
because the "Agenda 2020" reform is expected to take baseball and softball a step closer to reinstatement."

To symbolize solidarity, Akiko Shimura, captain of Women's National Baseball Team, presented Misa Okubo, her counterpart in Softball, a bouquet. Taeko Utsugi, JSA Vice President and World Baseball Softball Confederation Executive, undertook to do everything possible to realize baseball/softball family's dream.