News
2014-12-17
Matsui to team up with Jeter for charity in Japan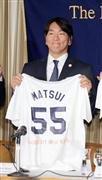 (THE ASSOCIATED PRESS  December 17, 2014
Hideki Matsui will team up with former New York Yankees teammate Derek Jeter to hold a baseball charity event in support children affected by the 2011 Great East Japan Earthquake.
Matsui, the 2009 World Series MVP, attended a news conference in Tokyo on Dec. 17 to promote the event on March 21 at Tokyo Dome.
"(Derek) will make an enormous contribution to this event," Matsui said. "He is a tremendous human being and was a great teammate and I'm sure the kids will be thrilled to see someone of his stature."
The event will include more than 600 participants, including a group of baseball players from the Tohoku region that was devastated by the March 11, 2011, disaster that killed 16,000 people.
Profits will be used to help children from the region.
The event will include a baseball clinic and a home run derby between Matsui and Jeter, who retired in 2014 after a 20-year career with the Yankees.
Matsui would not be drawn on speculation connecting him with a coaching job either with the Yankees or his former team in Japan, the Yomiuri Giants.
"That isn't related to this event so I'll leave that for another time," Matsui said when asked about becoming a coach.