News
2015-02-12
2015 WBSC U12 Baseball World Cup nations, dates announced
Wednesday, February 11, 2015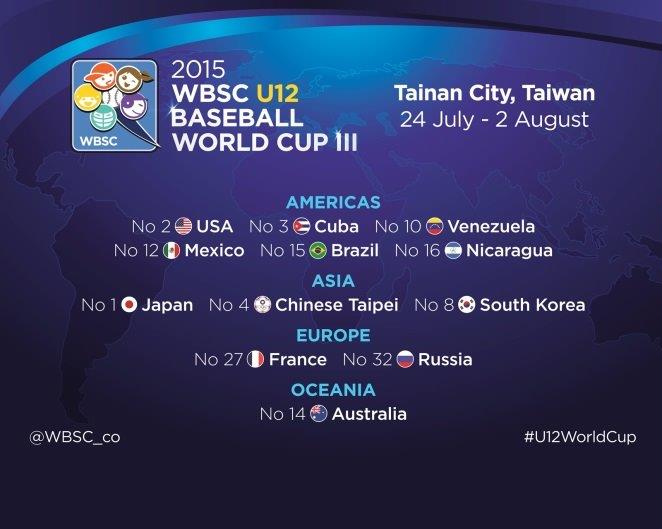 LAUSANNE, Switzerland – The World Baseball Softball Confederation (WBSC), the world governing body for the sports, announced a landmark agreement that awards Tainan City, Chinese Taipei the hosting rights of the next three editions (2015, 2017, 2019) of the WBSC Under-12 Baseball World Cup, which is the only international baseball tournament in this age group to feature National Teams (along with the U12 World Cup continental qualifiers), and is the only world championship tournament in all of sports at this age level.

The 2015 U12 Baseball World Cup III, which will showcase the best 12-year-old baseball players in the world, will take place from 24 July to 2 August in Tainan City, with the United States, "Team USA", entering as the defending U12 World Champions.
The twelve nations qualified for 2015 U12 Baseball World Cup represent a global footprint that includes a first-ever representative from Oceania (See hi-resolution image):

Americas: No. 2 USA, No. 3 Cuba, No. 10 Venezuela, No. 12 Mexico, No. 16 Brazil and No. 16 Nicaragua
Asia: No. 1 Japan, No. 4 Chinese Taipei, No. 8 South Korea
Europe: No. 27 France and No. 32 Russia
Oceania: No. 14 Australia

It will be the first time in U12 baseball history that the top four nations in the world -- Japan, USA, Cuba and Chinese Taipei -- will be represented at the U12 World Cup.

The elite competition will also feature ten of the top sixteen ranked nations in the world.
While USA are world champions, Chinese Taipei, Nicaragua and Russia all won their respective U12 continental championships in 2014. (See 'Related News')
Chinese Taipei won the inaugural U12 World Cup in 2011, defeating Cuba in front of a sold-out
Tien-Mu stadium in Taipei.

Added excitement will surround this year's U18 and U12 World Cups, which kick-off the 4-year world rankings cycle – as points earned from these events will be the first to go toward the world rankings that will eventually determine the qualified nations for the 2019 Premier 12™ Pro Baseball World Championship.