News
2015-02-27
WBSC leadership reconfirms support for Agenda 2020 reforms and to Olympic Movement and values in meeting with IOC President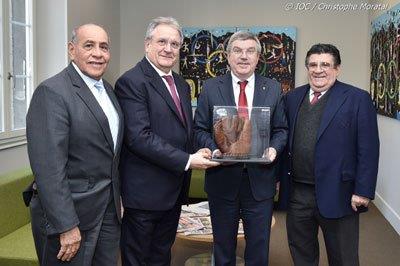 The IOC President Thomas Bach received WBSC President Riccardo Fraccari at the IOC headquarters in Lausanne, accompanied by IOC Member/WBSC Vice President Reynaldo González López and IOC Honorary Member/WBSC Vice President Melitón Sánchez Rivas, to discuss the Olympic programme in the framework of Olympic Agenda 2020 and its recommendations.

The WBSC president also reconfirmed baseball/softball's support of Olympic Movement and the promotion of Olympism.

A decision on potentially adding new events, such as baseball/softball, to the 2020 Olympic Games in Tokyo is set to be taken at the IOC Session in August 2016 ahead of the Rio Games.