News
2015-02-28
2015 WBSC U18 Baseball World Cup nations and dates announced
(By IBAF)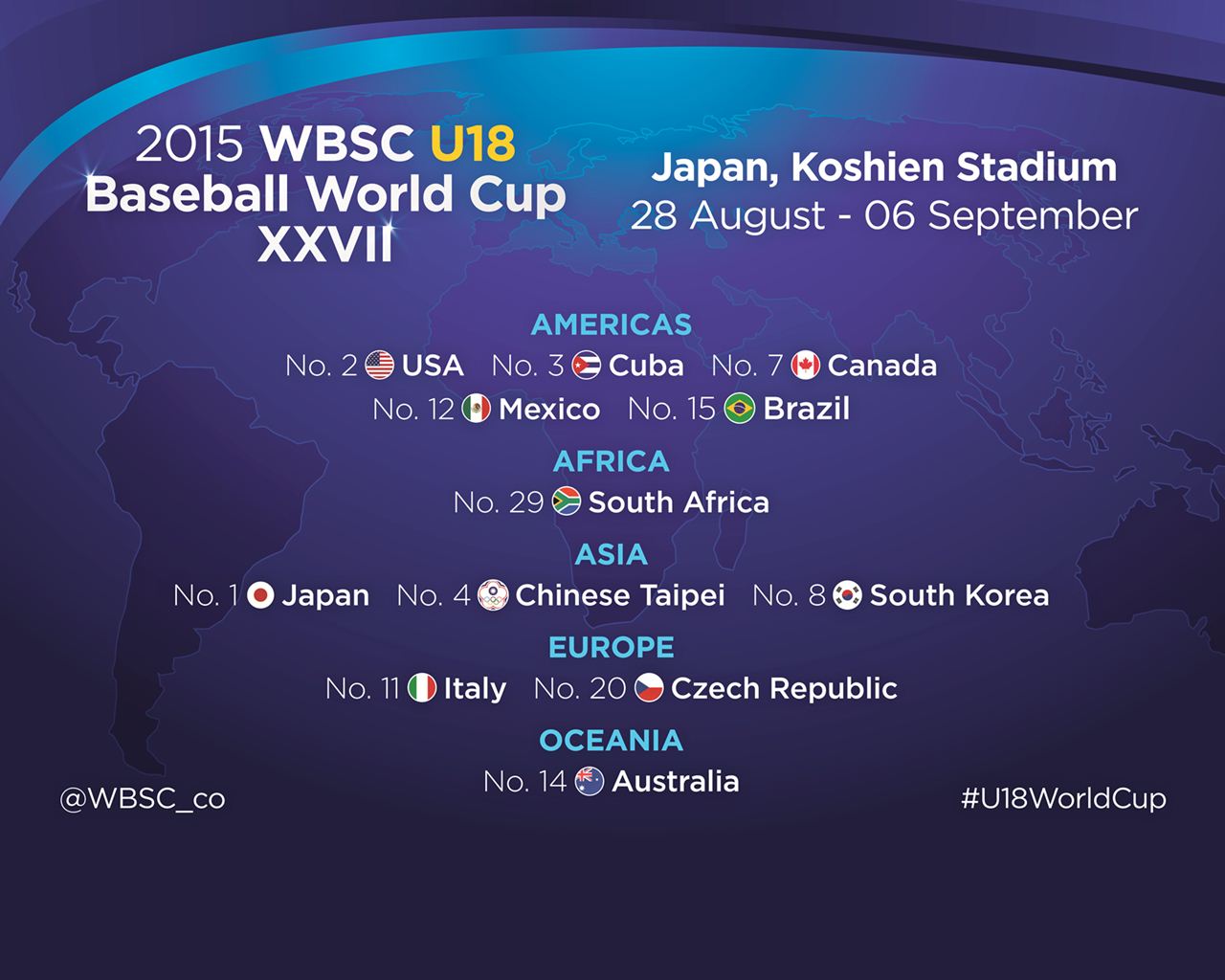 LAUSANNE, Switzerland -- The 2015 WBSC U18 Baseball World Cup will be staged from 28 August - 06 September, with historic Koshien Stadium serving as an iconic backdrop for the world's best 18-year-old baseball players and future superstars. Nippon Professional Baseball (NPB) is adjusting the Hanshin Tigers' home schedule at the legendary 47,000-seat (Hanshin) Koshien Stadium to accommodate and further add to the prestige of the WBSC U18 Baseball World Cup – and to honour the best young baseball players in the world and help drive a magical in-stadium fan-experience.  The nations heading to Koshien Stadium have been finalised after the first-ever U18 World Cup continental qualifiers in Africa (Mera, Kenya) and Oceania (Auckland, New Zealand). The historic qualifiers were regarded by WBSC leadership as "key breakthroughs in baseball's global evolution."

The U18 World Cup in Japan will feature seven out of the Top 10 nations in the world, and eleven out of the Top 20:
N. America: No. 2 USA and No. 7 Canada
C. America and the Caribbean: No. 3 Cuba and No. 12 Mexico
S. America: No. 15 Brazil
Africa: No. 29 South Africa
Asia: No. 1 Japan, No. 4 Chinese Taipei, No. 8 South Korea
Europe: No. 11 Italy and No. 20 Czech Republic
Oceania: No. 14 Australia

The U18 US National Team is the two-time defending world champions.
USA will also enter as the defending world champions at the 2015 WBSC U12 Baseball World Cup, which takes place from 24 July – 2 August in Tainan, Chinese Taipei.
U18 World Cup's Massive Broadcast Reach
The 2013 WBSC U18 Baseball World Cup held in Taichung (TPE) had a potential broadcast distribution reach of over 144 million homes and potential online/mobile reach of 22 million unique users.
Showcase of Future Stars
WBSC's biennial U18 baseball world championship has featured some of the biggest names in the sport, such as Canada's Brett Lawrie, Japan's Yu Darvish and Shohei Ohtani, South Korea's Shin-soo Choo, Cuba's Yasiel Puig and Aroldis Chapman, and USA's Justin Upton and Buster Posey, among countless others. The most recent generation of rising stars include Cuba's Jorge Soler, USA's Francisco Lindor and Canada's Dalton Pompey, all of whom played at the 2010 U18 Baseball World Cup in Thunder Bay, Canada (which will return as host for the 2017 WBSC U18 Baseball World Cup).