News
2015-03-18
Defending champ 1st on Koshien practice field
March 18, 2015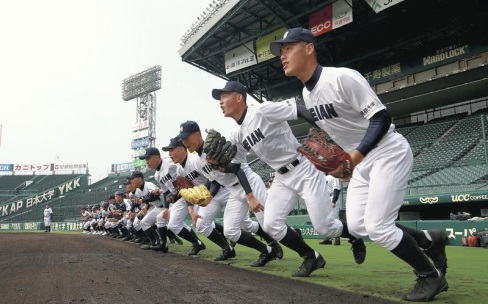 The Yomiuri Shimbun NISHINOMIYA, Hyogo — Defending champion Ryukokudai Heian was the first team to take the field at Koshien Stadium for practice Monday in preparation for the upcoming National High School Baseball Invitational Tournament.
Whether the Kyoto school can again be around at the end of the 32-school tournament will be determined in the two weeks after play starts Saturday.
Ryukokudai Heian had to wait an hour due to rain before starting practice at 10 a.m. Ace pitcher Keiji Takahashi, who helped the team win the tournament last spring, got in some pitches off the mound. "I threw the same as usual," he said. "I am going in with the attitude that every game is a must-win game."
The remainder of the teams then followed with 30-minute practice sessions each.
Ryukokudai Heian is involved in one of the more intriguing first-round match-ups, as the school has been drawn to face Saitama's Urawa Gakuin, the 2013 champion.