News
2015-04-02
Spring Koshien baseball winners epitomize strength through adversity
The Asahi Shimbun, April 2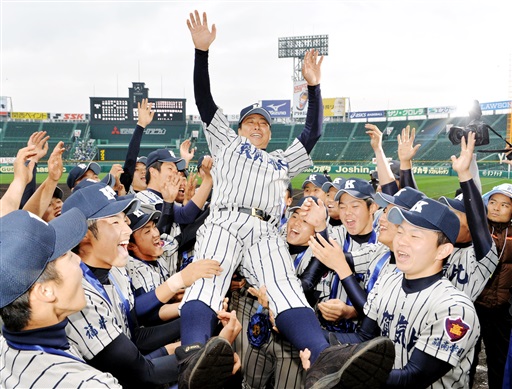 Masaru Gakiya, manager of the Konan Senior High School baseball team in Okinawa Prefecture, believes that people can overcome adversities if they face up to them. He also says that happiness comes from counting one's blessings.
Konan Senior High School's championships in the 2010 spring and summer national baseball tournaments are still fresh in our memories.
Gakiya began working immediately after he graduated from Konan Senior High School. He spent 34 years in Hokkaido, Japan's most northern main island, as a player and manager of a corporate baseball club until returning to Okinawa in 2007.
During his first winter in Hokkaido, Gakiya, born and raised on a subtropical island, felt as if he had been locked up in a freezer. But he refused to leave.
"If the ground is covered with deep snow, just remove it," he says. Shoveling snow not only makes it possible to play baseball, but also helps develop physical strength, he points out.
In his book titled "Gyakkyo wo Ikinuku Chikara" (Strength to get through adversity), Gakiya stressed that only a tough environment makes people stronger.
In Okinawa, a long rainy season and blistering heat in the region's long summer pose tough challenges. In Hokkaido, people have to deal with heavy snowfalls and winter's biting cold.
Gakiya's indomitable spirit, demonstrated in his determination to use these challenges to get stronger, helped him lead his corporate baseball team to a national championship.
The players on the two teams that fought in the final of this year's spring Koshien baseball tournament appeared to have a similar fighting spirit.
An Asahi Shimbun article about Fukui Prefecture's Tsuruga Kehi High School team before the tournament began said the question was whether Tsuruga Kehi's batters would be able to hit effectively after a long winter prevented them from getting enough batting practice.
Despite the concern, the team won the championship, held at the storied Koshien Stadium in Hyogo Prefecture.
Tokai University Daiyon High School, which was defeated in the final, played a well-matched game until the last couple of innings, displaying its strength, built up through hard work during Hokkaido's winter.
When it was selected as a team to participate in spring Koshien tournament, Tsuruga Kehi set a goal of winning the championship.
In making an oath of fair play at the opening ceremony for the tournament, Ryo Shinohara, captain of the winning team, read a tanka he composed himself: "I see smiles of my teammates on the ground/ As we pursue our dream/ Our life shines."
This positive and cheerful mind-set seemed to be the source of Tsuruga Kehi's power.
Tsuruga Kehi became the first team from the Hokuriku region along the Sea of Japan coast to win a national high school baseball tournament, spring or summer.
The team has achieved a national victory that people in the region have been awaiting for many years.
It was another exciting and uplifting piece of news for the region, following the recent opening of the Hokuriku Shinkansen train line linking Tokyo and Kanazawa.