News
2015-05-01
"CLUB LALIGURANS" in action to help disaster in Nepal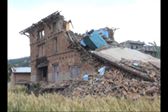 Club Larigurans a NPO in Japan which has been vigorously working to promote baseball in Nepal had to suspended to send a coach to Kathmandu this month and started to collect donations along with Nippon Professional Baseball, Tohoku Rakuten Golden Eagles, to help the victims of the magnitude 7.9 earthquake that hit the Kathmandu Valley on April 25, 2015.

Although no serious casualty of baseball related personnel has been reported as of April 30, most of their residence has been destroyed forcing them to live outside. A picture of the damaged home of a baseball official in Bhaktapur, 10 km from Kathmandu is shown above.

Yohei KOBAYASHI, President of Club Laligurans calls for donations to the Club's account with Japan Post Bank #00950-8-165088: From overseas banks the remittance shall be made in either USD or EUR, via a designated intermediary bank.