News
2015-06-11
Schedule revealed for the 25th World Children's Baseball Fair in Chiba, Japan
340 Children from 16 Countries/Regions Invited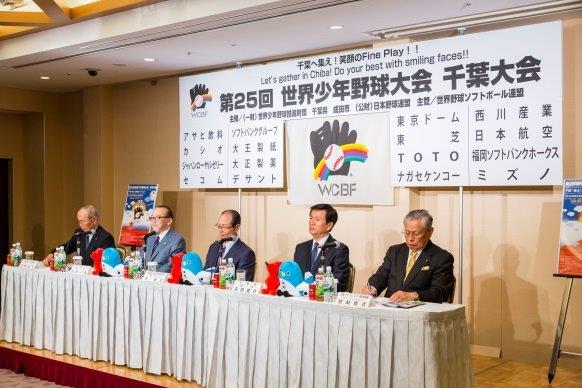 On June 9, 2015, Sadaharu Oh, 75, President of the World Children's Baseball Foundation (WCBF) and former Tokyo Yomiuri Giants great who slugged 868 career home runs, announced the details of the 25th WCBF in Chiba Prefecture for 9 days from August 2, 2015. He expressed his desire for children to fully enjoy the Fair to be held for the second time in Chiba where inaugural fair in Japan was held in 1991. At the same time, President Oh appreciated the visit of legendary Hank Aron (81) co-founder of the Fair, to celebrate the important chapter of the WCBF's event in Chiba.

Commissioner Katsuhiko Kumazaki of Nippon Professional Baseball highly valued this event, particularly because global development of the sport helps reinstate baseball and softball to 2020 Tokyo Olympics.

For the first time in WCBF's history, children from Myanmar are invited to join Canada, China, Chinese Taipei, Denmark, Fiji, Germany, Hong Kong, Korea, Malta, New Zealand, Peru, Philippines, Switzerland, U.S.A. and the host Japan. Team Myanmar will be lead by Toru Iwasaki (59) who used to work with the United Nations, now resides in Yangon with his wife after retirement and helps promote baseball as volunteers.

The girls and boys 10-11 years old will learn from veteran coaches to play baseball and participate in cultural and other sport events to create goodwill and friendship. The World Baseball/Softball Confederation (WBSC) nominated 10 coaches headed by Angel Bonilla (USA).

Children's baseball teams from Chinese Taipei and Korea will play friendly games with 12 teams in Chiba Prefecture.

The WCBF inaugural event was held in Los Angeles in 1990, and nearly 5200 participants - boys and girls of 10 and 11 years old - from 93 countries/regions (including Myanmar), will have attended this global event.