News
2015-06-26
Toshiaki Endo appointed Olympics minister
(Read the full story on The Japan Times)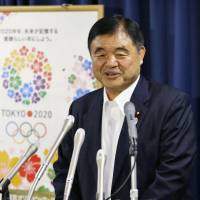 Toshiaki Endo, a former rugby player who has abundant experience in sports-related organizations, was appointed Thursday as new minister in charge of the 2020 Tokyo Olympic and Paralympics.
The 65-year-old, who is also a former vice sports minister, said that he is ready to take the lead in what he called "Team Endo" — which comprises Cabinet ministers, bureaucrats, the Tokyo Metropolitan Government and the Tokyo Organizing Committee of the Olympic and Paralympic Games — to make the international event successful.
"I want to play the role of 'props #1,' " he said at a news conference at the Cabinet Office, likening his role in organizing the international event to a rugby position at the front of the union to tackle opponents.
Indeed, Endo has a huge issue to tackle: how to combat the ballooning costs of building the new National Stadium, which could rise up to ¥252 billion, a steep increase from last year's estimate — ¥169 billion.
Sports minister Hakubun Shimomura, who was in a position to take charge of Olympic preparations, asked the Tokyo Metropolitan Government in May to foot ¥50 billion for construction of the main stadium.
The request triggered a feud with Gov. Yoichi Masuzoe, who said the minister asking a municipality to bear the cost is a violation of Local Government Financial Act, which prohibits municipalities from bearing the cost of building a national facility.
At his news conference, Endo said Shimomura will continue to be involved in this issue. He intends to support him by having closer communication with stakeholders, he added.
The number one priority is to finish construction before the Rugby World Cup in 2019, Endo said.
The Liberal Democratic Party veteran from Yamagata Prefecture will be in a position to direct the newly established Headquarters for the Tokyo 2020 Olympic and Paralympic Games, a government body established Thursday to take charge of organizing the event.
Endo has served as secretary-general of a nonpartisan group of Diet lawmakers promoting the 2020 Games.
To create Endo's new post, special legislation was enacted to enable the government to increase the maximum number of ministers to 19 from 18.