News
2015-07-03
Universiade: Cal State Fullerton's baseball team representing the U.S. in South Korea
July 2, 2015 The Orange County Register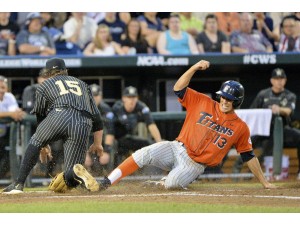 FULLERTON – Cal State Fullerton's long baseball season didn't end at the College World Series in Omaha.
The Titans still have five games to play in 2015 thanks to an agreement cut in 2014 for the Titans to represent the U.S. in the World University Games in Gwangju, South Korea.
The Olympic-like competition for collegiate athletes is set for July3-14, and Fullerton has sent a 22-player team – 16 current players and six incoming freshman pitchers – to the city located in the southern part of the country, more than 150 miles from Seoul, which hosted the 1988 Olympic Games.
Thus a long season that included a lot of travel – regular-season trips to Clearwater, Fla.; Bloomington, Ind.; Lincoln, Neb.; College Park, Md.; and Honolulu, Hawaii, plus an NCAA super regional in Louisville, Ky., and then the CWS in Omaha – gets a little longer and decidedly more international.
"We were approached about playing in the World University Games last year," Coach Rick Vanderhook said. "It was an intriguing idea, for one school to represent the U.S. in an international event.
"It was a chance for us to take some of our young guys to Korea, and we figured it would probably be the only chance some of these kids would ever have to play for the U.S., and in a country they've never visited before and may never visit again."
U.S. involvement in the World University Games used to come under the guidance of the U.S. Olympic Committee and its various national governing bodies for Olympic sports. But participation in the WUG was spotty with so many other summer-time championship events in Olympic sports.
This is just the third time baseball will be played at the WUG, having been added by the host countries in 1993 (Buffalo, N.Y.) and 1995 (Japan). Cuba won the gold medal both years. Korea considered adding baseball to the 2003 event but declined because of facility issues.
The Titans reconvened for three practices last weekend before jumping on a plane for South Korea on Tuesday. They played an exhibition game against France before WUG competition begins against the Czech Republic on Monday (1 a.m., PDT).
The Titans are in Pool B, and will play a round-robin with Chinese Taipei, the Czech Republic and France. Pool A teams include the host nation, Japan, China and France. The top two teams from each pool advance to medal-round semifinal games.
Fullerton had only two seniors on the 2015 team, Tyler Peitzmeier and Willie Kuhl. Five juniors who were selected in the amateur draft, including Thomas Eshelman and David Olmedo-Barrera, won't be part of the traveling team as they decide between starting their pro careers or returning for their senior seasons.
Six players who were regulars or platoon players will form the nucleus of the starting lineup – first baseman Tanner Pinkston, second baseman Taylor Bryant, third baseman Jerrod Bravo, shortstop Tim Richards and outfielders Josh Vargas and Dustin Blaser.
Vargas was the lead-off hitter much of the season and hit .332. Bravo and Pinkston broke out big offensively in the run to the Big West Conference title, and Bryant and Richards were a solid defensive double-play combo that contributed their share of key hits in May and the postseason.
Six returning pitchers will make the trip, including rotation staples John Gavin and Connor Seabrook and relievers Miles Chambers, Maxwell Gibbs and Chad Hockin.
The six freshman pitchers making the trip all had miniscule ERAs in their senior season of high school, most notably Fresno's Colton Eastman (6-3, 0.65, 121 strikeouts in 73 innings) and El Modena's Brett Conine (6-2, 0.72).
"It's a great way for those freshman pitchers to break into college baseball," Vanderhook said. "It's early exposure that will help them and us."
(Read the full story on "The Orange County Register")
Cal State Fullerton's 22-player roster
Returning position playersDalton Blaser, OF (.256); Jerrod Bravo, 3B (.318, .451 OBP, 25 RBI); Bryce Brooks, IF; Taylor Bryant, 2B; Hunter Cullen, OF; Tristan Hildebrandt, IF; Chris Hudgins, C; Taylor Pinkston, 1B (.256, 18 RBI); Tim Richards, SS (.375 on base, 26 RBI); Josh Vargas, OF (.332, 42 runs scored).
Returning pitchersRHP Miles Chambers (5-3, 2.17); LHP John Gavin (7-3, 3.66); LHP Maxwell Gibbs (2-2, 3.18); RHP Chad Hockin (2.95); RHP Connor Seabold (5-4, 3.26); RHP Shane Stillwagon.
Freshman pitchersLHP Erik Cha, Ayala (4-5, 1.53); RHP/IF Brett Conine, El Modena (6-2, 0.73); RHP Colton Eastman, Fresno Central (6-3, 0.65); RHP Josh Rios; RHP Gavin Velasquez, South Hills (4-6, 1.41); RHP Blake Workman, Ramona HS (6-5, 1.43).