News
2015-07-31
Chinese Taipei powers back to defeat rival Japan in Super Round of WBSC U-12 Baseball World Cup
Starting from now you can find all the games played in the Tainan stadium televised at the following link:
https://www.youtube.com/channel/UCCQvP4hsRW9emj0meGk15jg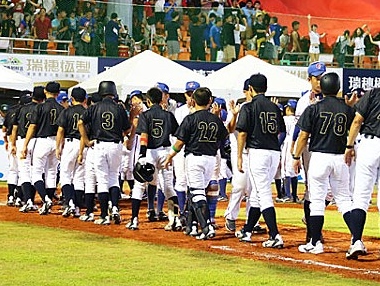 TAINAN, Taiwan – The Chinese Taipei National Team overcome an early scare to defeat arch-rival Japan, 7-3, in the second round to remain undefeated at the 2015 WBSC U-12 Baseball World Cup.

Facing a must-win situation, Japan tagged Chinese Taipei's starting pitcher Li Chou Chang for three runs off of four hits in the top of the first inning.

Japan left-handed starting pitcher Naoki Ito (3 IP, 1 H, 1 R) tamed the tournament-leading Chinese Taipei offense to help Japan to keep its world championship hopes alive.

Chinese Taipei batters had boasted an astounding .463 batting average heading into Thursday.

Chinese Taipei re-energized in the top of the fourth, as Naoki was pulled off the mound. The host nation used a double a walk and a two-RBI single to cut Japan's lead to 3-2 – at which point the crowd of 2,000 erupted into a chorus of chants and vigorous flag-waving.

Chinese Taipei led off the top of the 5th with a hit batsman and a walk, prompting a perfectly placed sacrifice bunt that moved the runners up 90 feet. Then a ground ball with Japan's infield drawn in was kicked, allowing Chinese Taipei to take a 4-3 lead.

With three balls and no strikes Wu Ping-en then put the game away, delivering a long 2-run home run to dead center to put the game away for Chinese Taipei and igniting the crowd into a deafening roar of celebration and musical cheers.

Chinese Taipei (Overall 6-0; Super Round 3-0) will face the United States on Friday at 18:30, in battle of the unbeatens.

Earlier on Thursday, Nicaragua defeated Cuba, 4-0, and the U.S. steamrolled Venezuela, 10-2.

Super Group Standings (as of 30 July)
1.Chinese Taipei 3-0
2.United States 3-0
3.Nicaragua 2-1
4.Cuba 1-2
5.Japan 0-3
6.Venezuela 0-3

Six games remain in the Super Round:

Friday, 31 July
•10:00: Venezuela vs. Nicaragua
•14:30: Japan vs. Cuba
•18:30: Chinese Taipei vs. United States

Saturday, 1 August
•10:00: Japan vs. Venezuela
•14:30: Cuba vs. United States
•18:30: Nicaragua vs. Chinese Taipei

The top two nations in the Super Group will compete for the U-12 World Championship on Sunday, 2 August at 18:30.

Consolation Round-Robin

In the Consolation Round to determine Nos. 7-12 in the final standings, Australia defeated Russia 10-3, Mexico topped Brazil 7-1 and South Korea beat France 9-3.
For the full standings, schedule, 'live' play-by-play, stats, results and box scores of the 2015 WBSC U-12 Baseball World Cup, click here.