News
2015-08-05
BC Gunma players coach youth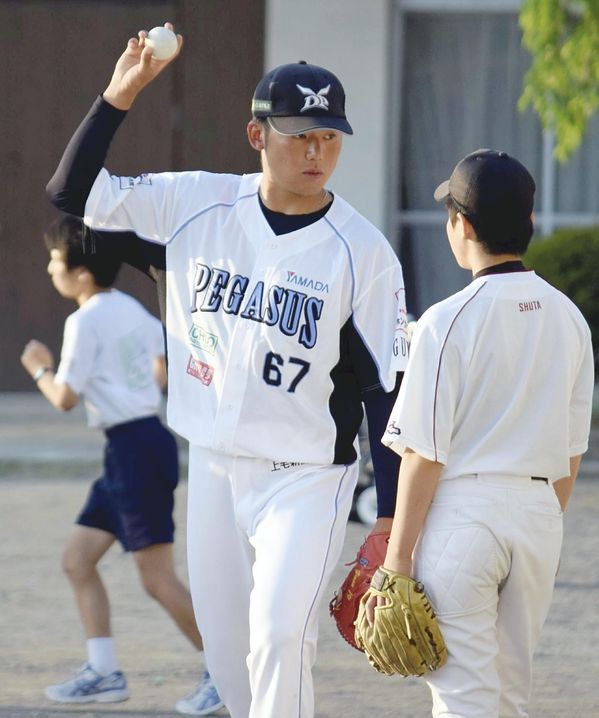 August 04, 2015
The Yomiuri Shimbun TAKASAKI, Gunma — This season, the Gunma Diamond Pegasus, a professional baseball team belonging to the independent BC League, has begun instructing middle-school baseball clubs in its hometown here as a way to contribute to the community.
It is rare for active pro baseball players to give ongoing support to school baseball clubs during the season. Local school officials, suffering from a lack of instructors, have high hopes for this experiment by a regional team.
The activity got its start when the team presented the idea to the Takasaki board of education. The coaching began in May at three middle schools in the city.
For the first year, a total of six sessions will be held through December, with six players from the team being sent to each school. The team is also making an effort to maintain continuity by keeping the same lineup of players who are sent to coach at each school. Players also teach how to prevent injuries at a time in life when the young players are growing.
At Takasaki municipal No. 1 Middle School, 11 members of the school's baseball club are instructed by 22-year-old Gunma pitcher Takuro Ito, who played for the Yokohama DeNA BayStars until last season, and five other members. Akira Ogura, an ace pitcher and third-year student at the school, said Ito taught him how to grip to throw breaking balls and how to shift his weight when pitching.
"Since changing my grip, my changeups now drop a lot," Ogura said happily. Ito said: "Only in an independent league would it be possible to regularly teach a small number of players. I look forward to seeing how far they can grow."
Schools enthusiastically welcomed the idea. More than 10 schools applied for a chance to be one of the three schools that would take part in the first year, and the choice was done by lottery.
"Teachers who instruct baseball clubs can also learn a lot," said Daisuke Kobayashi, coach to the baseball club at the municipal No. 1 middle school.
All eyes are on this community-rooted initiative to promote baseball to see whether it will bear fruit.