News
2015-08-19
Diamondbacks representatives help promote MLB Cup in Japan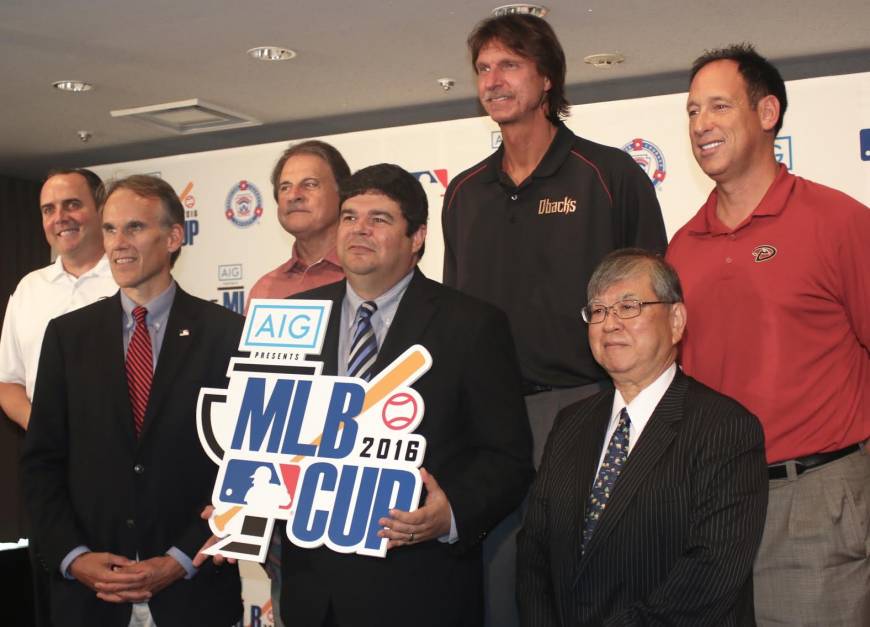 Top row, from left) Arizona Diamondbacks president and CEO Derrick Hall, chief baseball officer Tony La Russa and executive assistants Randy Johnson and Luis Gonzalez are joined by (bottom row, from left) MLB Asia/Pacific's Jim Small, AIG Japan Holdings Asia Pacific vice president Matthew Walker and Japan Little League Baseball Association president Minoru Sakayauchi at a news conference on Tuesday at the Foreign Correspondents Club of Japan in Tokyo. Aug 18, 2015
Major League Baseball enlisted a little star power to help announce its latest youth initiative in Japan.
Representatives from the Arizona Diamondbacks, including recent Baseball Hall of Fame inductee Randy Johnson, Tony La Russa and Luis Gonzalez, took time out of their goodwill tour to Japan to help announce the MLB Cup, a little league competition scheduled to take place in the country next year.
The Arizona Diamondbacks are excited to be a part of this announcement today with MLB International, AIG and Little League Baseball, Gonzalez said during a news conference at the Foreign Correspondents Club of Japan on Tuesday. Little League baseball is very important in the United States, as well as here in Japan and to the youth.
MLB is partnering with AIG Japan and the Japan Little League Baseball Association on the venture, which Jim Small, MLB Vice President for Asia, Pacific, said was the right thing to do.
The kids in this age group didnt have a national championship, Small said.
The MLB Cup will feature teams from all over Japan and run from May until September next year.
The teams who make it out of their respective regions will advance to the finals, which will be played in Ishinomaki, Miyagi Prefecture, one of the areas most affected by the Great East Japan Earthquake and tsunami in March 2011.
The fact that the finals will be played in Ishinomaki, we were there yesterday, its a beautiful, beautiful stadium and venue, it will add a lot of excitement, said La Russa, a former manager now serving as Arizonas chief baseball officer. Especially with the realization of what that area has gone through and fought through. Put it all together, its a wonderful, wonderful program.
MLB and its partners at the JLLBA and AIG are still ironing out the details of the event, which, if successful, could one day spread to other parts of Asia.
Were now in the process of making blocks in each Japanese region, said Minoru Sakayauchi, JLLBA president. Also, there are 260 teams. It could be theyre divided by childrens ages. Were still in the process of deciding details, so we havent set up the exact number of teams that will be participating.
Johnson and Gonzalez, who were little leaguers long before being famous major leaguers, spoke of the importance of baseball at the youth level.
Little League baseball is extremely important for our youth, Johnson said. Its an outlet at an early age to allow them to have fun and make friendships with their teammates.
Im very fortunate and blessed that I have been able to play baseball all of my life from 7 years old, in little league, until I retired at age 46. Little league baseball is a great outlet and has and will always been a great outlet for our youth.
The organizers are hoping the event helps instill a love of baseball among the younger generation. Most importantly, Small said, is that the event proves to be fun and memorable for all.
If youre a kid, and youre putting in all the work thats required to be a baseball player in Japan, which we all know is a lot, wouldnt it be cool to have that pay off, Small said. I get to play in the national tournament, I get to represent my club, my town, my prefecture in a national tournament. Thats just going to bring so much more fun to what theyre doing.

---