News
2015-07-14
Universiade ends with celebration of athletes, volunteers
Chinese Taipei and Japan share baseball gold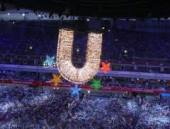 GWANGJU, July 14 (Yonhap) -- The 2015 Summer Universiade drew to a close in southwestern South Korea on Tuesday with a ceremony saluting the young athletes and people who worked behind the scenes to help run the multisport competition.

Gwangju, some 330 kilometers south of Seoul, and its neighboring sub-host cities opened the multisport competition on July 3. The final figures showed that 12,885 participants from 143 countries were here, and it still made the 2015 Summer Universiade the largest ever, surpassing the 11,759 who competed in the 2013 event in Kazan, Russia.

Host South Korea, thanks to strong showings in judo, archery, badminton and taekwondo, clinched first place in the medal table with 44 gold medals, followed by Russia with 34 gold medals. China also finished with 34 gold medals but trailed Russia in total medals, 122 to 72. Japan won 25 gold, 25 silver and 35 bronze, total 85. It marked the first time that South Korea has topped the medal race at a Summer Universiade. The Universiade is open to student-athletes or recent graduates between 17 and 28 years of age.

The closing ceremony at Gwangju Universiade Main Stadium,, less formal and structured than the opening one, started with a cheerleading performance and the South Korean rock band Dick Punks capped off the pre-ceremony show.

After the delegations entered the field, the scoreboard at the stadium played athletic highlights of the Universiade, along with behind-the-scenes footage of the volunteers helping with the event's operations. Kim Hwang-sik, co-president of the organizing committee, gave a farewell address, followed by a closing address from Claude-Louis Gallien, president of the International University Sports Federation (FISU). Prime Minister Hwang Kyo-ahn then declared the Universiade closed.

Next, the Universiade Flag was handed over to Taipei, the host of the next Summer Universiade in 2017. Ko Wen-Je, mayor of Taipei and head of the city's Universiade organizing committee, was joined by Ho Jow-Fei, director general of sports administration in Taipei, and Chiang Han-Sun, head of the Chinese Taipei University Sports Federation.

The Yomiuri Shimbun - Japans baseball team at the World University Games could hardly have been more dominant. The only thing it couldnt beat was the weather.
Japan had to settle for a share of the gold medal when the championship game against Taiwan was canceled due to rain Saturday in Gwangju, South Korea. Baseball was appearing on the Universiade program for the first time in 10 Games.
The young Samurai Japan overwhelmed its opponents, winning its three group games by a combined scored of 27-0 before beating the United States 8-0 in the semifinal. We were able to unite together as a team, manager Tatsuya Yoshinami of Meiji University said at a press conference upon arriving at Haneda Airport on Sunday. Team captain Seishiro Sakamoto, also from Meiji, said, Its a relief to bring the gold medal to Japan.

---